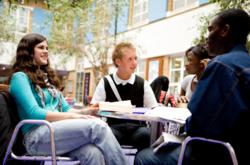 College graduates receive 16 years of education that is designed to provide our youth skills to earn more money; yet little or no time is spent on showing them how to save and grow their money.
Los Angeles, CA (PRWEB) November 29, 2011
Last year default rates on student loans reached their highest levels reported since 1999, increasing from 7% the previous year to 8.8%, according to Chris Spurlock of the Huffington Post. A U.S. Department of Education study noted even higher default rates among students graduating from for-profit colleges, from 11.6% in 2008 to 15% in 2009. To address these issues the NFEC is launching their new college financial literacy program in January 2012.
Why are defaults increasing? Near record-high unemployment figures for college graduates are part of the reason. The rest may be explained by the fact that the vast majority of college grads have received little or no financial literacy education. Studies have shown that youth and adults alike fail basic financial literacy tests. Taken together, these facts make it no secret why student loan default rates are so high.
The NFECs' comprehensive financial literacy for college students program features a variety of tools designed to improve the financial capability of students on campus while helping schools recruit potential future students. The financial education resources provided by the NFEC include virtual learning center, financial literacy curriculum, educator training, testing and full-production events.
Student loans form the first credit experience for many youth. And according to the Project on Student Debt, the average college graduate leaves school already under a debt load of more than $25,000. While most people agree that a college degree comes with valuable employment and financial benefits, those benefits can be easily squandered through money mismanagement.
If nothing is done, the National Financial Educators Council (NFEC) predicts that the student loan default rate will only continue going up. They propose a solution: financial literacy for college students. The NFEC believes that exposure to a comprehensive financial education while in college will help students learn the money-handling skills they need to maximize leverage of their degrees post-graduation.
The NFEC offers comprehensive financial literacy solutions for universities—full programs that include financial literacy workshops, high-profile awareness campaigns, multimedia learning centers, and contests. NFEC programs employ innovations that combine current technology trends with interactive games, creating experiential learning methods to which students can readily relate. Program components can be delivered individually or as a whole, to meet a variety of goals.
Besides providing basic money education, college financial literacy programs have wider-impact objectives as well—like reducing student loan default levels, protecting Title IV funding, student recruitment, and improving graduation rates. The NFEC designs custom financial literacy programs around each university's unique set of objectives.
"We chose to provide the NFEC curriculum as part of our Outreach Pennsylvania," says Erica K. Jackson, Director of the Center for Financial & Consumer Outreach at Penn State Erie's The Behrend College, "because it balances practical application with core educational standards. The lessons are engaging, making it enjoyable for teachers and students alike. We also liked that it incorporates a comprehensive financial educator training program to empower those delivering the information with the tools to maximize the effectiveness of the coursework."
The NFEC provides turnkey college financial literacy solutions to universities. Specific NFEC brands Money XLive and The Real Money Experience were designed to connect with college students and move them toward taking positive action steps to improve their personal finances.
###