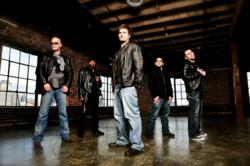 Just watch the U.S. fan reaction, everyone will know this band very soon.
Las Vegas, Nevada (PRWEB) September 03, 2011
Global Maximus Records, LLC (GMR) announced today that the label has completed the application process to obtain a U.S. work Visa for Canadian singer, Jesse LeBerge. LeBerge is the lead singer for the GMR signed 'Surface Rising'.
The singer is expected to join his band mates to start rehearsing for upcoming performances planned for Nashville, Tennessee and Dallas, Texas. The band will also be featured in several GMR sponsored programs that will provide mainstream exposure to the explosive rockers.
The label proclaims the band will provide one of the most energetic shows in the business. The label has also expanded the diversity of the talented group. The show's will be more theatrical during some of the songs possessing various characters and additional performers active in the show's script.
The shows are staged for the way "Live" rock shows used to be, exciting and theatrical making the 'Surface Rising' shows worth seeing. The Surface Rising talent is being maximized and being used to create strong and emotionally driven dynamics through their performances and video's, something the label demands from all of it's signed talent.
"GMR felt strong towards the group because of their unique sound and very strong live performances, one that resembles the likes of other bands of the past that found world success," states David Carter, Director at GMR "When we thought of acts for Maximus Overdrive, we thought of Surface Rising and Jesse's strong appeal on stage I would expect to be one of the top in the industry, just watch the U.S. fan reaction, everyone will know this band soon enough," states David Carter, Music Director at GMR
GMR plans the shooting of several video's to showcase the band to national television audiences. The band will be featured as the monthly video artists of the month in November 2011 on a instant reward platform. GMR's distribution network will keep the band in front of millions of consumers per day and thus the reason described as an invasion of sorts.
The band is scheduled to start it's U.S. dates in Nashville in early October, a venue, date and time will be issued next week. LeBerge is due to arrive in Nashville early this week to start working with the group in preparing to entertain America.
# # #