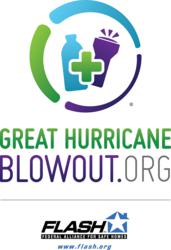 "...LPI's generous sponsorship of this sweepstakes not only benefits the winning family, it also raises awareness of critical strategies for staying safe in lightning whether it comes from a summer storm or a hurricane."
~Leslie Chapman-Hender
Tallahassee, FL (PRWEB) June 30, 2011
The Federal Alliance for Safe Homes(FLASH) announced today a sweepstakes beginning July 1 and running through July 31 in which eligible families can enter to win a home lightning protection system with professional installation from the Lightning Protection Institute (LPI). The prize, valued at $4,000, is part of a series of sweepstakes offered this hurricane season through the Great Hurricane Blowout (Blowout) hurricane preparedness social media campaign.
For a chance to win, visit http://www.greathurrianceblowout.org beginning Friday, July 1 2011, and click "Enter to win a lightning protection system from LPI."
Lightning associated with thunderstorms and hurricanes can pose a variety of fire hazards. A lightning protection system is designed to control a lightning strike onto a specified path, eliminating the chance of fire. A lightning protection system cannot prevent lightning from striking, but it can provide a path to safely direct the electrical current to the ground.
"For more than 12 years, FLASH has helped families with information about how they can stay safe and protect their homes in the event of a disaster," said Leslie Chapman-Henderson, FLASH President/CEO. "Our partner LPI's generous sponsorship of this sweepstakes not only benefits the winning family, it also raises awareness of critical strategies for staying safe in lightning whether it comes from a summer storm or a hurricane."
"The Lightning Protection Institute was formed to raise awareness and increase education about the underrated threat that lightning poses to life and property. Working with like-minded partners like FLASH, and participating in innovative programs like the Great Hurricane Blowout, is instrumental in helping us keep Americans and their property safe from lightning," said Bud VanSickle, LPI Executive Director.
Sponsored by Kohler Power Systems and State Farm®, the Blowout encourages the use of proven hurricane preparedness tools such as family plans, hurricane emergency kits and tips for making structurally stronger homes. However this year, FLASH added new and unique special events to the initiative including social networking components, sweepstakes, and giveaways designed to substantially broaden its reach and maintain interest. Spanning the entire hurricane season, some key Blowout components include:

Protect Your Home in a FLASH DIY home mitigation campaign
Hurricane emergency kit pledge drive
Facebook Kohler Whole Home Generator Sweepstakes
Dine in the Dark Recipe Sweepstakes to launch August 1
Families can visit the Blowout at http://www.greathurricaneblowout.org for a full timeline of Blowout events, useful information about hurricane preparedness, and full sweepstakes rules, conditions and entry information.
About FLASH
The non-profit Federal Alliance for Safe Homes, Inc. – FLASH® is a 501(c)3 collaboration of organizations dedicated to strengthening homes and safeguarding families from natural and manmade disaster. Based in Tallahassee, FLASH is the nation's fastest-growing disaster safety education organization with more than 100 partners including BASF, the Federal Emergency Management Agency, Florida Division of Emergency Management, The Home Depot, International Code Council, National Weather Service, Renaissance Reinsurance, Simpson Strong-Tie, Risk Management Services, State Farm, USAA and WeatherPredict Consulting, Inc. In 2008, FLASH opened the interactive weather experience; StormStruck: A Tale of Two Homes®. Visit http://www.flash.org or call (877) 221-SAFE (7233) to learn more about FLASH and access their free consumer resources today.
About Kohler
Kohler Power Systems is a division of Kohler Co., and provides complete power systems, including generators (residential, industrial, mobile and marine), automatic transfer switches, switchgear, monitoring controls, and accessories for emergency, prime power and energy-management applications. Kohler Power Systems has delivered energy solutions for markets worldwide since 1920. For more information, visit http://www.kohlerpower.com.
About State Farm®
State Farm insures more cars and homes than any other insurer in the U.S., is the leading insurer of watercraft and is also a leading insurer in Canada. State Farm's 17,700 agents and more than 67,000 employees serve 81 million policies and accounts – almost 79 million auto, fire, life and health policies in the United States and Canada, and nearly 2 million bank accounts. State Farm Mutual Automobile Insurance Company is the parent of the State Farm family of companies. State Farm is ranked No. 31 on the Fortune 500 list of largest companies. For more information, please visit statefarm.com® or in Canada statefarm.ca®.
About Lightning Protection Institute
LPI is a not-for-profit, nationwide group founded in 1955 to promote lightning safety, awareness and protection education. The organization provides a certification program to qualify competence in lightning protection installation, design and inspection. Visit the LPI website at http://www.lightning.org for more information.
###