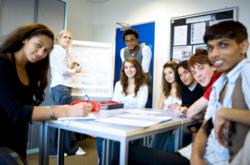 (PRWEB) December 22, 2011
The National Financial Educators Councils' Certified Financial Education Instructor (CFEI) coursework is launching the first quarter of 2012. This course is designed to share the best practices in financial education with those interested in teaching personal finance.
The updated Certified Financial Education Instructor coursework provides instruction for volunteers, educators and concerned citizens interested in teaching personal finance to teens, young adults and adults. The primary goal of the Certified Financial Education Instructor coursework is to develop educators so they can effectively share personal finance lessons with participants in a way that maximizes their learning, improves retention rates and facilitates long-term changes in behavior.
The CFEI coursework was developed through collaboration with educators and financial professional. To ensure the graduates of course understand how personal finance principles are implemented in the real world, the NFEC brought together financial advisors, Realtors, insurance representatives, debt experts and other financial professionals to contribute to the financial literacy curriculum.
The Certified Financial Education Instructor train-the-trainer program also shows educators how to integrate core educational standards while teaching personal finance. Participants learn how to use the NFECs' Financial Capability Curriculum which offers lesson plans that meet requirements set by the National Council of Teachers of Mathematics, the National Council of English Teachers, National Business Education Association and the National Council for Social Studies.
The CFEI coursework also provides training on educational theories that can help the instructors in teaching personal finance. Topics covered within the financial education instructor coursework include: Blooms Taxonomy of Higher Order Thinking Skills which is used as a measurement tool, Howard Gardners' Multiple Intelligences Theory which shows teachers how to accommodate different learning styles, and the Transtheoretical Model of Behavior Change which is a tool used to measure ones willingness to improve their financial knowledge. The CFEI program also features other topics and information designed to improve the effectiveness while teaching personal finance.
For participants to earn their Certified Financial Education Instructor certificate and begin teaching personal finance as a NFEC certified instructor, they must complete approximately twelve to twenty-five hours of coursework that is offered via live instruction, live webinars and/or through recorded video. The length of the course is dependent upon their personal level of financial knowledge. Certification is issued upon successful completion of a comprehensive final exam that includes multiple choice, fill in the blank and an interview with a NFEC Certified Financial Education Professional (CFEP).
The National Financial Educators Council provides a variety of financial literacy solutions to organizations and individuals around the globe. The NFEC offers training for educators and volunteers who are seeking to improve the financial capability of their community. The Certified Financial Education Instructor designation is awarded to those that complete the program requirements, and is committed to helping graduates educate the populations they serve.
###