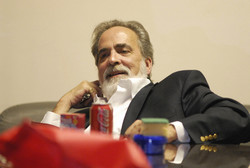 Council members are top advertising and production professionals worldwide...
Philadelphia, PA (PRWEB) March 13, 2011
Maturo Media Executive Producer Sam Maturo has been appointed to The Silver Council division of the Telly Awards. Council members are top advertising and production professionals worldwide who oversee the awards competition and evaluate entries to recognize distinction in creative work. Maturo joins executives from MTV, Harpo Studios, NBC Universal, Time Warner, CBS, Comcast, Fox and Microsoft to name a few.
Mr. Maturo's skill in the creative development, production and direction of short and long form programming is extensive.
His most recent television offering is the DRTV National Campaign: Astonish America. A series of short form DR spots featuring the household cleaning product ASTONISH, currently airing on Cable, Broadcast and Satellite networks nationwide. ASTONISH is consistently IMS ranked in the top 20 DRTV spots nationally.
Among his award-winning features and specials is the highly acclaimed BULLY! An Adventure With Theodore Roosevelt, starring James Whitmore, the recipient of the International Film Board Award of Excellence and honored at the National Archives, Washington, DC as a film of historic importance. DELOREAN: the mini series development, LIVING TODAY: syndicated daytime talk starring Hall of Fame inductee Jim Palmer, the award winning documentary series pilot GRAND CREATIONS and the reality series pilot LIVING LOUD starring International Opera Star Kevin Glavin.
Another field of expertise includes the production of Evidentiary, Mediation and Forensic Video for clients nationally.
Awards & Honors
The National Archives, Washington, DC
1 Silver and 12 Bronze Tellys
The International Film Advisory Board
The California Arts Commission
The Cities of Los Angeles & San Diego, California
The City of Indianapolis & The State of Indiana
Additional information may be found at: imdb.com
More Information:
Press Contact: 215.893.3632
###