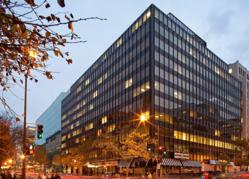 Rockville, MD (PRWEB) November 19, 2011
The Patient-Centered Outcomes Research Institute (PCORI) is an independent organization created to help people make informed health care decisions and improve health care delivery. PCORI will commission research guided by patients, caregivers and the broader health care community to help patients better understand prevention, treatment and care options available.
The 12-story, 313,603 square foot office building is located in the Central Business District of Washington, DC, where Tower was first to install the next generation production version of the Daikin McQuay® MagnitudeTM frictionless centrifugal chiller. Amenities include a 2,798 SF LEED Gold certified health and wellness fitness center for tenants of the newly eco-updated 1828 L and 1707 L, Tower-owned and managed buildings.
Andrew Felber of CBRE represented the tenant, while Tom Hilley and Pete Prominski of Transwestern represented the Tower Companies.
###