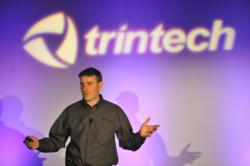 It's energizing to see our clients passion about their roles and how Trintech's solutions have such an impact on their success.
Dallas, TX / London, UK / Dublin, Ireland (PRWEB) June 06, 2011
Trintech shared today the successful completion of the industry's largest ever Last Mile of Finance educational event. This year's Executive Circle and Customer Conference hosted attendees from around the world, with 40 sessions including presenters from clients and partners such as Coca-Cola, Sempra Energy, McKesson, CIGNA, Marriott, Brinker, General Parts/CARQUEST, Sprint, KPMG, Accenture, and Longview Solutions. Participants shared their expertise and success stories setting the stage for further finance transformation initiatives. With over 300 attendees, this year's event posted record attendance with the added opportunity to earn up to 17 CPE credits.
Executive Circle attendees discussed issues affecting their organizations ranging from financial controls and performance, to financial close management, to financial reporting and disclosure management. In the round-table discussions, members outlined specific achievements and goals of their respective organizations, finding common ground in current and future Trintech solutions. Trintech executives outlined the plans for transformational Last Mile of Finance solutions. Throughout the conference, attendees embraced extensive opportunities to gain valuable insight and share tactical solutions with peers, and to participate in deep diving product explorations with Trintech software experts.
"It's energizing to see our clients passion about their roles and how Trintech's solutions have such an impact on their success. Our interactions with our clients direct our organization to ensure that everything we do is fully aligned with their day-to-day functional needs – across all spectrums of organizations sizes and industries," said Paul Byrne, Trintech CEO. "By engaging with our clients in these comprehensive conversations, we can get to the most essential requirements of our clients' businesses on every level of their operations, setting the direction for Trintech software solutions in the years to come."
"By integrating our clients into every aspect of what we do, they become the voice in our long-term, strategic decision making process," said Bob Pritchard, Trintech Vice President Sales and Marketing. "Our Customer Conference is a one of a kind, holistic learning experience setting the trend in our industry, providing our clients with the information and tools they need to impact their organization in this demanding and ever changing business climate."
About Trintech:
Like Trintech on Facebook, or follow Trintech on Twitter!
Trintech is the leading global provider of integrated software solutions for the Last Mile of Finance. From the time a transaction occurs to the time financial statements are issued, Trintech's innovative Unity Suite automates data collection, account reconciliation, financial close management, financial reporting, XBRL, and financial control testing. As a result, our 600 clients and 100,000 users worldwide benefit from an enterprise wide view into critical financial processes, and are able to increase efficiency, improve visibility, shorten cycle times, lower costs, and reduce risk.
Trintech clients include 50% of the Fortune 50 and nearly 25% of the Fortune 500 representing retailers, manufacturers, financial institutions and healthcare providers globally. Trintech clients include Google, Microsoft, RR Donnelley, Regis Corporation, Walmart, O2, Blackstone, BAE Systems, Skype, HSBC and Toyota Financial Services.
For more information on how Trintech can help you transform your Last Mile of Finance, please contact us online at http://www.trintech.com or at our principal business office in Dallas, Texas, or through an international office in Ireland, the United Kingdom, or the Netherlands.
Trintech • 15851 Dallas Parkway, Suite 900 • Addison, TX 75001 • Tel 1 972 701 9802
Trintech UK, Ltd. • 2nd Floor • 4-6 Throgmorton Avenue • London EC2N 2DL • Tel: +44 (0) 20 7628 5235
Trintech Technologies Limited • Suite 13B, Classon House, Dundrum Business Park • Dublin 14, Ireland • Tel +353 1 298 4472
Trintech • Cypresbaan 9 • 2908 LT Capelle a/d Ijssel, The Netherlands • Tel +31 (0) 10 8507 474
# # #