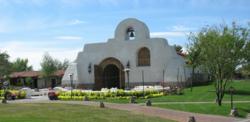 "We are delighted to present two exceptional musical events this holiday season at the Tubac Golf Resort and Spa," said Linda Cormier, General Manager.
Tucson, AZ (PRWEB) November 10, 2011
In celebration of the holiday season the Tubac Golf Resort & Spa just announced special engagements with Heather O'Day and The Men in Black and the Tucson Arizona Boys Chorus. Both engagements include an elegant reception and dinner featuring seasonally inspired Southwest cuisine.
On Saturday, November 26, 2011, the resort is presenting a caberat style evening with Heather O'Day and The Men in Black. The jazz ensemble take their cues from classic jazz artists such as Ella Fitzgerald, Billie Holiday, The Rat Pack, Dave Brubeck, Vince Guaraldi and more. They feature a list of beloved standards for vocals, piano, drums and bass along with a few great surprises. Heather O'Day and The Men in Black hail from Tucson, Arizona and perform throughout the Southwest.
On Friday, December 9, 2011, The Tucson Arizona Boys Chorus will be performing holiday favorites, show tunes, American Southwest favorites and selections from Sir Andrew Lloyd Webber at the resort's 1700's mission-style chapel. The Tucson Arizona Boys Chorus, under the direction of Dr. Julian Ackerley, has garnered accolades through performances at the White House, Lincoln Center, Kennedy Center, the Beijing Institute of Culture, Russian Glinka Cappella, Sydney Opera House, Seoul Arts Center, St. Peter's Basilica and the Tabernacle in Salt Lake City, with the Mormon Tabernacle Choir. Dr. Ackerley has taken the Boys Chorus on performance tours spanning five continents and over 25 countries. Under his direction, the chorus has made numerous recordings and has collaborated with national symphony orchestras and opera companies. The Chorus is a proud recipient of the state's highest arts commendation, The Governor's Arts Award.
A member of Historic Hotels of America, the Tubac Golf Resort & Spa has been welcoming guests with its unique style of hacienda-inspired warmth since 1959. Set on the historic Otero Ranch amid 500 lushly manicured acres, Tubac Golf Resort & Spa features a 27-hole championship golf course, a destination spa, savory dining and extraordinary shopping. The resort is located at One Otero Road in Tubac, Arizona, just 35-minutes from Tucson, Arizona.
Special room rates are being offered in conjunction with both events. For more information, call 520.398.3532 or email PTodd(at)TubacGolfResort(dot)com.
###