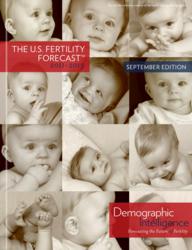 If your business is driven by the number of births each quarter, this is a must-have report!
Charlottesville, Virginia (PRWEB) September 21, 2011
Today, Demographic Intelligence, LLC released the September edition of The U.S. Fertility Forecast. The new report projects U.S. births for 2011-2013 and answers this fundamental question:
Are U.S. births poised to rebound from their most recent low in 2010?
If your company needs to know the answer to this question--that is, to know where U.S. births are headed--Demographic Intelligence (DI) provides the answers. The U.S. Fertility Forecast was 99.8% accurate in predicting 2010 births, and DI is confident that their projections for 2011, 2012, and 2013 will also provide its clients with a clear sense of where U.S. births are headed. 
Highlights of Data in the September Report
-Total birth projections for 2011-2013
-Projections by Education and Ethnicity
-Projections for First Births
-Various birth scenarios through 2025 based on different economic conditions
-Historical analysis of birth trends back to 2000
For the first time, Demographic Intelligence is also offering an Express Data Service for customers interested solely in accurate birth estimates for 2011.  The Express Data Service is an instant, cost-effective way to obtain annual and quarterly birth projections for 2011, as well as a summary of recent trends in U.S. births.  Email Express(at)USbirthrate.com for a quote and link to the data.
For more information, contact Steven Morales 434-286-2275,  Steve(at)USbirthrate.com.
Visit http://www.DemographicIntel.com
About Demographic Intelligence LLC
Demographic Intelligence (DI) provides demographic information, analysis, and consulting to companies and investors in the juvenile products, household products, and pharmaceutical industries. DI produces The U.S. Fertility Forecast on a quarterly basis, and also consults with companies interesting in exploring U.S. demographic trends in more detail. The president of Demographic Intelligence is Dr. W. Bradford Wilcox, who is also a professor of sociology and the Director of the National Marriage Project at the University of Virginia, where he studies trends in marriage and parenthood in the U.S. Demographic Intelligence is advised in its work by three leading demographers: Princeton economist Alicia Adsera, University of Pennsylvania demographer Hans-Peter Kohler, and Duke University demographer Philip Morgan.
CONTACT:
Steven Morales
Demographic Intelligence
(434) 286-2275
Steve(at)USbirthrate.com
####