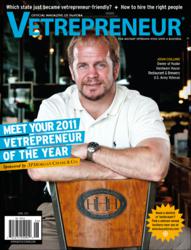 NaVOBA Brand Manager Kate Meeuf said. "Military training pushes people to test their limits and discover what they are truly capable of accomplishing. These experiences ultimately contribute to solid success in the business world."
Pittsburgh, PA (PRWEB) June 22, 2011
The National Veteran-Owned Business Association (NaVOBA) announced that Army veteran Josh Collins has been selected as its 2011 Vetrepreneur® of the Year (VOY), sponsored by J.P. Morgan Chase. Collins, 41, is the owner of Huske Hardware House Brewing Company in Fayetteville, N.C.
"I am humbled by the distinction of this award, and am so proud of our service men and women" Collins said. "There is no doubt that this honor never could have been achieved without the lessons learned along the way from my band of brothers, and moreover without my partners who also continue to serve."
"Josh Collins is a passionate and driven leader, whose superhuman work ethic and accomplishments inspire aspiring vetrepreneurs," NaVOBA Brand Manager Kate Meeuf said. "Military training pushes people to test their limits and discover what they are truly capable of accomplishing. These experiences ultimately contribute to solid success in the business world."
Josh Collins is president of Team Collins, the parent company of Huske Hardware House Brewing Company and Wet Willies in Fayetteville, NC. Huske Hardware House Brewing Company was founded in 2007 and enjoyed revenues that exceeded $3 million last year.
Collins is featured on the cover of the June issue of Vetrepreneur magazine now available in print and the article is available online at http://www.navoba.com/voy2011. The Vetrepreneur® of the Year nominees are reviewed by a panel of business experts that selects the winner based upon one's leadership and business acumen as well as his/her success and desire to cultivate veteran entrepreneurship.
Collins represents one of the three million plus vetrepreneurs across the nation. To find a veteran-owned business near you or to register yours, go to http://www.buyveteran.com
For more information visit NaVOBA on the web at http://www.navoba.com or follow us on Facebook at http://www.facebook.com/buyveteran and on Twitter @buyveteran
###