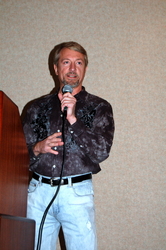 Explore the intuitive arts and sciences in a family-friendly environment of joy and fun.
Cincinnati, OH (PRWEB) March 28, 2011
The Victory of Light Expo is one of the largest and longest-running metaphysical conventions in the country. Established by Victor Paruta in 1992, the April 16 and 17 expo features more than 50 free seminars on the intuitive arts, including Animal Communication, Crystal Reading, Past Lives, Meditation, Modern Mystics, Extraterrestrials, Mediumship and Angels. Two paranormal seminars with a local twist are "Ghosts of Cincinnati: The Dark Side of the Queen City" presented by Teri Casper and Dan Smith, authors of the book by the same title and owners of Haunted Cincinnati Tours, and "Paranormal Road Trips From Cincinnati" by Jeff Craig, publisher of the Hidden Ohio Map & Guide. There are sixteen seminars on holistic health and healing, from "Vitamin Crazed," a seminar by internationally recognized holistic clinical pharmacist Dr. Cathy Rosenbaum, to Reflexology by Himavat Ishaya of The Sages Touch. Renowned veterinarian Dr. Linda Bender will talk about "Animals & Healing," focusing on her recent work with the Sacred White Lions of Timbavati in South Africa. One of the outstanding features of Victory of Light is the more than 200 exhibitors offering psychic readings, healings and merchandise for body, mind and spirit. Live entertainment takes place throughout the weekend. The event is open from 10:00 a.m. – 7:00 p.m. on April 16 and 17 at the Sharonville Convention Center.
Admission is $12 for one day or $20 for both days. Seniors and student receive a $2 discount. Parking is free. Complete details about the expo, including links to presenters' and exhibitors' websites and a detailed seminar schedule are available at VictoryofLight.com or by calling 513-929-0406. The Victory of Light Expo can also be found on Twitter and Facebook.
"This expo really embodies the full spirit of what Victory of Light has done since its beginning, and that is to provide the public with opportunities to explore the intuitive arts and sciences in a family-friendly environment of joy and fun," comments Paruta.
Certainly one of the most popular aspects of the Expo is the wide variety of readings and readers, including Psychics, Clairvoyants, Mediums, Animal Communicators, Past Life Readers, Spirit Artists, a Forensic Profiler, Tarot Readers, Numerologists, Medical Intuitives and Astrologers. Other techniques demonstrated at the Expo include Psychometry (reading the energy of objects), Channeling and Palmistry. Paruta's seminar "Ask A Psychic," Sunday at 2:00 p.m., is always standing room only.
Tibetan monks from the Gaden Khachoe Shing monastery in Bloomington, Indiana, and Cincinnati, Ohio, offer their unique and meaningful gifts and artifacts. They will also hold Buddhist Healing sessions on Saturday and Sunday at 11:00 a.m. and a Discovering Buddhism seminar on Sunday at 4:00 p.m. A $10 donation is suggested to benefit their work in the community.
Instrumental in introducing new age, metaphysical and holistic health experts and information to Cincinnati for nearly 20 years, this Expo features fifteen first-time seminar presenters and seventeen new seminar topics, including:
Saturday, April 16
Live Crystal Readings for Members of the Audience –11:00 a.m.-12:00 noon.
Maria Celeste, founder of The Center for Creative Healing.
Medical Intuition: Seeing with an X-Ray Eye –12-1:00 p.m. Tina Zion, a fourth generation psychic and medical intuitive and author of The Reiki Teacher's Manual (2009) discusses how medical intuitives assist in whole mind-body assessment and promoting health at the core level of one's being.
How I Found My Past-Life Daughter – 12-1:00 p.m. and Are We Our Past Lives? Soul Patterns in Personalities and Relationships – 3-4pm. Psychology Professor Marie Gates, author of Shadows on My Mind: A Psychologist Explores Reincarnation and PSI and Are We Our Past Lives?: Soul Patterns in Personalities and Relationships.
Ghostbusting (Spirit Releasement Therapy) –1-2:00 p.m. Professional ghostbuster Cindy Riggs will share her experiences of more than ten years of clearing spaces and empowering others to not fear this realm.
"The Experience" – Drop Your Emotional Baggage, Reclaim Your Powerful Essence – 3- 5:00 p.m. ($10 fee) This self-actualization workshop by Heidi E. Kent and Marsha G. Cook teaches how to disassociate subconscious fears, poor habits and negative experiences resulting in lifelong changes.
Vitamin Crazed: A, B, C, D & E: Current Controversies & More –5-6:00 p.m. Holistic clinical pharmacist Dr. Cathy Rosenbaum, an internationally recognized author, speaker and motivational consultant in the field of non-traditional medicine, lifts the veil on supplements.
Sunday, April 17
Edgar Cayce's Prophecy on Earth Changes –11:00 a.m.-12:00 noon. Robert Heath.
The ABC's of Holding Things Together in Tough Times –12-1:00 p.m. Michael Tibbetts of The Family Center For The Sacred Heart, devoted to Individual and Family Emotional & Spiritual Healing.
All Problems are Energetic Dysfunctions! – 1- 2:00 p.m. Omar Nelson teaches three exercises to practice daily for at least three weeks that can reap an array of rewards, boost energy levels and support peace of mind.
The History of Extraterrestrial Interaction with Humanity – 3- 4:00 p.m. Susan Rawlings teaches about the reality of extra-terrestrial presence throughout history and its impact on humanity in the future.
Akashic Records (The Book of Life) and Relationships - 3- 4:00 p.m. Renowned numerologist Tammi Rager reveals how to discover a deeper meaning to spiritual relationships and how to begin to empower every interaction with ALL people as sacred.
Side Effects May Include… - 3- 4:00 p.m. A humorous, information look at the side effects of prescription drugs vs. potential natural alternatives, presented by George Cox.
Finding the Real Psychic in You! – 4-6:00 p.m. Find out if you are psychic with Rev. Melissa Leath, author of Psychic Integrity, Ethics and Morals of Modern-Day Mystics.
Live Entertainment performances by keyboardist Lighthawk Mark Kenworthy and the Emerald Breeze Dance Ensemble take place throughout the weekend.
Victor Paruta, founder of the Victory of Light Expo
A highly sought after and respected psychic reader and spiritual consultant, Victor Paruta was voted "Best Psychic" by Cincinnati Magazine in 2005 for his "mysteriously accurate and compelling readings." He is a regular guest on radio and television, including ABC's "The View," and is featured in dozens of articles and publications. Paruta serves on the faculty of Baker Hunt Art & Cultural Center in Covington, Kentucky, where he teaches classes in psychic and intuitive development. He produced the first Victory of Light Psychic Festival in Cincinnati in 1992. Paruta will present his popular "Ask a Psychic" seminar (free readings for audience members) on Sunday, April 17, at 2:00 p.m.
# # #