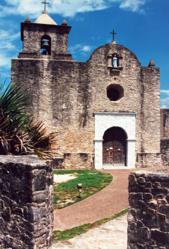 "In other parts of the world, there are old cathedrals or castles that connect you with the distant past. This is the closest thing to a castle in our area." -- Newlywed groom Aaron Lee Ochoa, Port O'Connor, TX
Goliad, Texas (PRWEB) October 28, 2011
For a memorable wedding, couples should "Remember Goliad!" . . . Texas, that is, and its Presidio La Bahia (Fort of the Bay). After all, couples have been exchanging vows in the citadel's quaint Our Lady of Loreto Chapel since 1779.
The National Historic Landmark, located on a pastoral hilltop beside the San Antonio River, is probably the most fought over piece of ground in Texas. The site marks one of the bloodiest chapters in Texas' quest for independence from Mexico – the "Goliad Massacre" in 1836, which followed the disastrous Battle of Coleto Creek nearby. (presidiolabahia(at)goliad(dot)net)
But the betrothed are undeterred. Nuptials occur frequently, from Catholic rituals replete with lace and mantillas to Christian services celebrated with the wedding party decked out in camouflage hunting gear. Honeymoons often begin in The Quarters, former lodging for officers and priests.
The Presidio has received national attention this year as a desirable matrimonial destination:

Still, as wedding locations go, the 290-year-old Spanish fort may not be the envy of everyone headed for the altar. But no one can dispute its unique and unusual background or historic import.
Within the Chapel walls, revolutionaries signed the first Declaration of Independence on Dec. 20, 1835; Texas heroes prayed and received Holy Communion. In the Quadrangle, where wedding receptions are often held, wounded defenders like Col. James Fannin were executed. Just beyond the fort's eight-foot high stone walls, parapets and cannons, hundreds more of his "Texians" were massacred.
7th Generation Ancestral Ties
The ancestors of Roxanne Caye Gayle, who married Aaron Lee Ochoa in the chapel in July 2010, did the same thing more than 180 years ago. Gayle is a seventh-generation descendant of Don Carlos de la Garza, a Mexican rancher who was born at the Presidio in 1807. He was baptized in the Chapel and married his wife Tomasita there in 1829.
"We chose Presidio La Bahia for our wedding because we both love the history of the place," said Roxanne, a Port Lavaca math teacher. "We actually went to see the (Massacre) reenactment when we began dating. We realized that we had both gone there on field trips in elementary school and liked it a lot."
"In other parts of the world, there are old cathedrals or castles that connect you with the distant past," said Aaron, an electrician. "This is the closest thing to a castle in our area."
In 1836, de la Garza led 80 rancheros known as "Victoriana Guardes" into the battle of Refugio, defeating forces sent by Col. Fannin and helping pave the way to the Mexican victory at the Battle of Coleto Creek. He was later instrumental in sparing the lives of at least six of his captive neighbors at the Presidio moments before their execution.
"I think the chapel is so beautiful inside... no reason to put up any decorations. The gorgeous woodwork, the angel (fresco)," Roxanne added. The couple resides in Port O'Connor, TX. (Video and story at: http://www.victoriaadvocate.com/news/2010/jul/31/kb_historicwedding_080110_105718/.
"I'm happy Roxanne (got) married there," said her mother, Debbie Gayle, who discovered the historic connection 20 years ago. "She can become part of history and pass that down to her children."
A "Shotgun" Wedding
By contrast, Shane McAdams and Lea Ann Ellisor, avid hunters who now reside in Victoria, TX, had a fun-themed wedding at Presidio for their 150 guests (ceremony) and 350 guests (reception): "The Hunt Is Over."
Groomsmen and bridesmaids sported their Realtree New Breakup camouflage vests and dresses. The flowers were hunter orange canna lilies. Decorations included deer horns, shot gun shell hulls, targets, etc.
"We rode away on a camo golf cart," said Lea Ann, "and the guests threw (deer) corn at the bride and groom," instead of rice. "Priceless! This perfect day was a reflection of us."
The couple had grown up in Goliad and visited often. "We both love Texas history and wished to create another memory there," she added. They even spent the night in The Quarters across the courtyard, describing it as "more than adequate...quiet delightful...very peaceful .
"We didn't experience any paranormal activity," she said, alluding to comments by previous guests of hearing music and voices and seeing apparitions.
The Quarters, a modern, cozy, two-bedroom suite with a living room, fireplace and kitchenette, has two private entries. It can accommodate four persons for overnight stays, and is often used as a staging area for the wedding party.
Peace and serenity now permeate the Chapel, as well as more than 35,000 visitors annually. Highlights include a double bell tower, an original groin-vaulted ceiling, a choir loft and a religious statue estimated at 300 years old. Located in the niche above the Chapel entrance is the statue of Our Lady of Loreto sculpted by Lincoln Borglum, of Mount Rushmore fame.
In 1946, noted Corpus Christi artist Antonio Garcia painted a Texas-inspired Annunciation fresco behind the altar. In addition to cactus and a rattlesnake, the angel Gabriel is depicted with six toes. In the deep background, Garcia portrayed a wedding at the chapel, the very marriage of the woman who commissioned the artwork.
The Chapel, which has served the spiritual needs of Catholics – Spanish, Mexican, Texas, American, in turn – for 232 years, continues its existence as a place of worship. Mass services are held every Sunday at 5 p.m.
Restoration, Renovation, Rejuvenation
"The Presidio and Museum, which completed a 3½-year renovation in 2010, is one of the nation's finest examples of Spanish Colonial architecture," explains Newton Warzecha, Director.
"The original ruins were fully restored in the 1960s with funds from the Kathryn Stoner O'Connor Foundation. More than $500,000 was spent recently to broaden the landmark's appeal and to convey its compelling story of early Texas."
Presidio La Bahia is owned by the Catholic Diocese of Victoria, but operated by a private foundation. Weddings sanctioned by other denominations, however, are welcome. For information or arrangements, contact Newton M. Warzecha at Presidio La Bahia, P.O. Box 57, Goliad, TX 77963, 361- 645 3752, or presidiolabahia(at)goliad(dot)net
The Chamber of Commerce, located two miles away on the Courthouse Square, will provide newlyweds with catering and lodging information. Two motels serve the area. Local restaurants can accommodate small to moderate-sized parties in private dining facilities. Contact: 361-645 3563 or goliadcc(at)tisd(dot)net.
Larger groups have access to the city's Memorial Coliseum or to facilities in Victoria, 22 miles away. The Goliad Chamber website http://www.goliadcc.org offers more info on other attractions and seasonal events.
With the exception of the annual Living History Weekend at the end of each March, the roar of cannons, the bang of musket fire and the gritos of clashing soldiers and wounded men are no longer heard in this the 175th year of Texas Independence. Instead, "The Wedding March" echoes across the Quadrangle and the South Texas Plains.
FOR MORE INFORMATION OR INTERVIEWS:
Newton M. Warzecha, Director, Presidio La Bahia; President, The Presidio La Bahia Foundation, Goliad, TX, 361-645-3752
Preston F. Kirk, APR, Kirk Public Relations, Spicewood, (Austin) TX, 830-693-4447
###