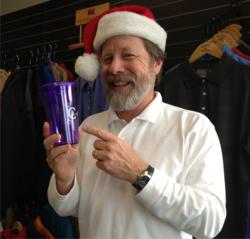 It's not too late to make a special impact through gifts designed to create loyalty and goodwill.
Charlotte, NC (PRWEB) December 07, 2011
Smart companies know the value of expressing gratitude to those who have contributed to their success during the year. A holiday gift goes a long way toward building loyalty and demonstrating commitment.
Western Associates, one of America's largest and oldest promotional product firms, has gift suggestions – part of its Neat Stuff collection – it can deliver in a short time and on a practical budget.
Double-wall acrylic tumblers have been top promotional products this year. Useful and economical at around four bucks (compared to around $12 at Starbucks), they're available in a variety of colors with a candy cane striped straw.
Interesting executive gifts are often difficult to find, but Western Associates has an excellent suggestion – a combination laser pointer, 1 GB flash drive, and pen. Can be personalized with recipient's name or initials and shipped within five days. Comes with a one-piece gift box, all under $15.
Christmas cards are appreciated, but not often retained. You can make them special by including a CD with holiday music you select, and with your logo on the disc. It's a gift that will be remembered year after year, and it starts around $3 each – not much more than the price of a card alone.
Gifts of food are always appreciated, but once the goodies are consumed, the giver of the gift can be forgotten. Western Associates recommends products from Maple Ridge Farms, because its food gifts come with something memorable included – a cutting board with
your logo on it, for example, or a branded box. You can also choose executive business card holder with milk chocolate almonds. Production can be completed in five days.
Western Associates serves customers from five locations – Marion, Wichita, and Topeka, Kansas; Tulsa, Oklahoma; and Charlotte, North Carolina. Its services are available online at http://westernassociates.com
"We love the holiday season, and get special satisfaction from helping companies spread cheer during this wonderful time of year," said Haines Maxwell, Chancellor Western Associates' Neat Stuff University. "It's not too late to make a special impact through gifts designed to create loyalty and goodwill. Check our Facebook page daily to see our latest ideas."
###