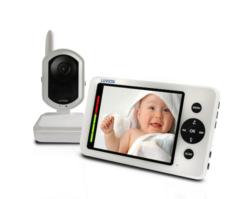 "In our experience, only Luvion's brand of premium video baby monitors can hold a candle to WiFi Baby in terms of convenience and interference-free image quality" - Engadget Review- June, 2011
Palm Beach, FL (PRWEB) October 18, 2011
WiFi Baby, a supplier of smart and secure baby monitors, partners with Luvion Baby Products to offer the Luvion Grand Elite digital video baby monitor with shipping to the United States and Canada. The Luvion Grand Elite has a secure digital signal with a 300 yard range, exceeding others in its product class by 100 yards (300 feet).
Designed for convenience, the rechargeable video monitor is the size of a smart phone with a 3.5 inch screen and a mere 16 mm thick. To ensure privacy, the Luvion Grand Elite uses a digital pairing function, similar to a Bluetooth system, that syncs the camera's digital signal only to an authorized video monitor.
"The security issues of wireless video baby monitors have been the subject of countless news articles, like NBC News, because traditional monitors work on public analog radio signals," commented WiFi Baby CEO Stefanie Fox.
"Range from camera to the video baby monitor, or parent unit, is measured in direct line of site," Fox explained. "If your nursery is on the third floor and you're monitoring from the first floor, a monitoring system with a 200 yard range may not cut it, due to walls, levels, stairways and closed doors. The picture may be choppy, the signal could be weak or it may not connect at all."
After WiFi Baby's recent review in Engadget, the company decided to partner with Luvion. The reviewer stated, "In our experience, only Luvion's brand of premium video baby monitors can hold a candle to WiFi Baby in terms of convenience and interference-free image quality under a variety of lighting conditions."
Luvion Grand Elite Features:

Private interference-free range up to 300 Yards
Rechargeable smart phone size video monitor with 3.5 inch screen, mere 16 mm thick
Video quality is 640x480, 30 Frames Per Second
2- Way interference-free digital audio "Talkback"
Audio alerts - Visual, Auto-Mute and Alarms set to personal preference
SD-card slot for scheduled recording (SD card sold separately)
Can connect to any HDTV for Picture-in-Picture (PIP) with included AV cords
On Screen Display of room temperature, date and time
Expandable up to 4 Grand Elite Cameras (sold separately)
Auto Scan between all authorized cameras on same video monitor
Camera and monitor can work on AC Connection or battery
Camera can be shelf or wall mounted with included kit
Until partnering with Luvion, WiFi Baby has exclusively sold the WiFi Baby 3G, a stand-alone wireless camera that connects to a home WiFi network and streams password-protected video and audio to iPhone, iPad, iPod Touch, Mac and PC. "Over the last year, we have been searching for an alternative non-WiFi network based baby monitor to expand our product line so we could meet the monitoring needs of all parents," said Fox. "With Luvion we now have the best of both worlds. Our customers now have a choice of the most advanced WiFi network or digital based baby monitors on the market."
About Luvion Baby Products™
Luvion Baby Products is a family owned company that develops and manufactures high quality baby products focused on design and functionality. Based in the Netherlands, their products are sold internationally and now available in the US and Canada through WiFi Baby.
About WiFi Baby™
Florida based WiFi Baby is a supplier of smart and secure video baby monitors in the US and Canada. Since WiFi Baby's launch in December, 2010, their products and service have been featured and reviewed on CBS News, NBC News, Engadget, Fast Company, AppleTell, PC World, and multiple parenting websites. WiFi Baby's brand recognition has grown exponentially because of the WiFi Baby 3G, a WiFi network based video baby monitor which allows parents to watch and hear their baby both at home or anywhere with a WiFi or data plan connection on iPhone, iPad, iPod Touch, Mac or PC. For more information on the products WiFi Baby offers, company videos or a live demo, visit wifibaby.net.
###