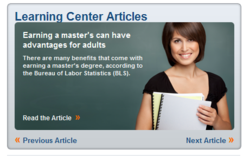 We're really excited about our updated Website. In providing people with a better overall user experience to find the right degree programs we'll be doing our part to help people improve their lives through education and career development
Chicago, IL (PRWEB) May 04, 2011
Millions of people each year enroll in higher education. But many prospective students are not aware of the multitude of educational choices available to them, including thousands of colleges, universities, degree programs, online degrees, and e-learning programs. And many students are unfamiliar with the increasing advantages of e-learning over traditional colleges and universities.
To address the many needs of prospective college students today, YourDegree.com, a premiere provider of higher education information and services, has re-launched with thousands of expert articles and informative pages of content on higher education to connect students with colleges, degrees, and e-learning programs that meet their interests and needs. YourDegree also provides valuable resources to colleges and online universities seeking to recruit new students.
The new YourDegree website boasts the web's most comprehensive knowledge base of informative articles related to college programs, degrees, schools, courses, state colleges, and accredited online schools and programs. YourDegree also matches students with the right college, university or e-learning program to meet their individual needs.
YourDegree makes it easy for students to quickly research hundreds of degree programs, find the best e-learning schools, get comprehensive information on hundreds of online degrees, compare the features and benefits of every higher education degree, and get connected to the college of their choice to start earning their degree.
YourDegree provides detailed information on hundreds of degrees offered by the best colleges and universities around the country, including associate's degrees, bachelor's degrees, master's degrees, doctorate degrees, and certificate programs.
YourDegree also connects students to the best online degree programs in the country, including online associate's degrees, online bachelor's degrees, online master's degrees, online doctorate degrees, and online certificate programs in hundreds of majors.
"We're really excited about our updated website," said Jeff Giles, Senior Vice President of Business Development for First Impression Interactive, which manages YourDegree.com. "In addition to providing people with a better overall user experience to find the right degree programs, we'll be publishing fresh content daily to keep people up to date with the latest news surrounding online education."
So, whether you are a recent high school graduate looking to earn a college degree, a working professional seeking an online degree while you work, or someone who prefers e-learning to traditional college, YourDegree connects you to the degree program of your choice and gets you on the fast track to earning your college degree.
Visit YourDegree.com today for your connection to higher education.
###