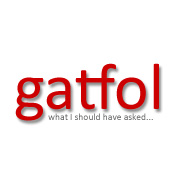 They obliged by providing the almost impossible test – using Gatfol power to re-write sections of Shakespeare, Hitler and Einstein's main works
Centurion, South Africa (PRWEB) January 12, 2012
Gatfol Technology represents a compact, elegant and massively scalable technique for changing keyword search into man-to-machine questioning communication. The technology provides an invisible (to the user) universal tool that acts as interpreter between unsophisticated user input and what application based information "requires" for efficient retrieval.
Founder and CEO Carl Greyling mentions that he believes the Gatfol technology is now so universally powerful that he challenged the development team to apply it beyond search and re-write some of the most iconic literature in the history of mankind. They obliged by providing the almost impossible test – using Gatfol power to re-write sections of Shakespeare, Hitler and Einstein's main works. "Just imagine what we are going to do for search in 2012 if you take a look at this" Carl proudly proclaims.
As an additional achievement, Carl today announced that seed funding has been obtained from private New Zealand-based investors to fund pre-Beta testing of Gatfol's free browser technology scheduled for release towards the end of first quarter 2012. Carl says "as we are getting more exposure and interest worldwide as an innovative technological start-up, the right investors have stepped in at the right time to take the Gatfol project forward successfully."
Carl acknowledges that conceptual thinking around the Gatfol idea has been long in coming, but points out that human-to-machine communication and the resultant commercial search avenue derivatives are the quintessential funding "minefields", leading to many start-up corpses and investment disasters over the last 40 years.
Carl added that "I see current basic keyword-driven search technology as an extreme disappointment and failure compared to how we have wanted to question computers through natural language since the 1960's. As opposed to common agreement my view is that after decades computers still cannot see our human world - and we cannot talk to them about it. Current search is still at caveman-speak three keyword level. The difference that our technology makes is that it can analyse everyday word relationships at power levels several magnitudes more subtle than that presently available".
As to seed funding timing, Carl explains that the algorithm technology was finally patented in the United States in 2011 and together with the advanced state of prototype development, now provides a firm base to present to investors. This led to Carl delivering a talk showcasing the Gatfol technology at the world's largest semantic intelligence convention SemTech 2011 held annually in San Francisco. "Funding interest after SemTech 2011 has been fairly robust" Carl acknowledges thankfully.
He goes on further to say that the eventual two investors provide a strong match, given the decision-making freedom they allow the Gatfol management. "This is essential in the natural language semantic field as research projections around the 'messiness' and 'greyness' of language analysis present a multitude of possible development paths at any one time – much more so than in the exact sciences. Funding providers that can understand and accept this are few and far between."
The investors were also drawn in by the fact that whilst in San Francisco, Carl had discussions with representatives of a large search engine and an agreement was reached whereby Gatfol would present a working prototype for web search enhancement in the first half of 2012, upon which a possible commercial liaison with the search engine could be negotiated.
About Gatfol
The Gatfol project was started roughly 12 years ago in the UK. A small team of financial experts developed an intelligent accounting system that analysed patterns in accounting data. This formed the basis of the Gatfol technology currently in development and received an EMDA Innovation in Software award from the European Union in 2006.
The rationale for the Gatfol pursuit is that, with all the work that has been done towards creating artificial intelligence in computers over many decades, it is still not possible to talk to computers on a human-to-human basis.
While it is Gatfol's big vision to eventually enable humans to converse with data, a more immediate goal encompasses data search, because search is effectively talking to information. Current efforts are concentrated on applying Gatfol's technology to improve search using semantic intelligence (meaning in data), both on the web and in proprietary databases.
Those interested in learning more about Gatfol Search Technology can visit http://www.gatfol.com/individuals.html or to see Shakespeare, Hitler and Einstein re-written using Gatfol power, visit http://www.gatfol.com/gatfolpower/strangerthanfiction.html. Gatfol Blog at http://www.gatfol.com/blog. For more information contact Carl Greyling at Gatfol on +27 82 5902993.
###