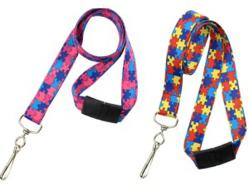 ID Card Group is proud to help support the Autism Speaks Foundation in its efforts to raise awareness via these special lanyards
West Sacramento, CA (PRWEB) February 14, 2012
ID Card Group, a leading online retailer of ID card printers, supplies, and badging accessories is now offering autism awareness lanyards to help support the Autism Speaks Foundation.
These colorful awareness lanyards are adorned with bright, multi-color mosaics of the puzzle emblem, which symbolizes autism awareness. Two color combinations are available and each style comes with a breakaway safety clasp for easy release.
Ten percent of all autism awareness lanyard sales go to support the Autism Speaks Foundation - the nation's largest autism science and advocacy organization. The foundation is dedicated to funding research into the causes, prevention, treatments and a cure for autism; increasing awareness of autism spectrum disorders; and advocating for the needs of individuals with autism and their families.
"Autism is a complex disorder that affects an estimated 1 in 110 children," says Mark Soeth, ID Card Group president. "ID Card Group is proud to help support the Autism Speaks Foundation in its efforts to raise awareness via these special lanyards."
The brightly colored autism lanyards are 36 inches long and ¾ inch wide. A name tag, badge, identification card, or key attaches easily via a swivel hook. A breakaway clasp ensures a safe and quick release if the lanyard is caught or pulled under pressure.
Promotional or awareness neck lanyards such as these are popular accessories for advocacy events and fundraising walks - as well as for showing support for a cause in schools, hospitals, and other health care facilities. In addition to the autism awareness lanyard, ID Card Group also offers breast cancer awareness lanyards and patriotic lanyards.
Many organizations choose to create their own custom personalized lanyards for quick identification and team building using ID Card Group's Design-A-Lanyard tool. The easy-to-use online tool walks customers step by step through the lanyard design process - showing each design choice in real time.
Through the month of February 2012, ID Card Group is offering customers free custom set up (a $50 value) for all custom lanyard orders placed via the Design-A-Lanyard tool. To receive the credit, customers can enter the coupon code LANYARD50 during checkout.
In addition to custom lanyards and awareness lanyards, ID Card Group stocks a huge assortment of blank neck lanyards in many styles, including bulk lanyards, breakaway and safety lanyards, patriotic lanyards, eco-friendly and made in the USA lanyards, medical and lab lanyards, braided and woven lanyards, and lanyard and badge reel combinations. Each lanyard is backed by ID Card Group's low price guarantee, as are all products and brands in the store.
About ID Card Group
ID Card Group offers a full line of ID card equipment, supplies, and accessories – from identification and access control products, to promotional products for loyalty or membership programs, to gift, payment, or phone cards and systems. Industries such as business, schools, government, military, law enforcement, healthcare, gaming, hospitality, trade shows/conventions, sports & entertainment and more choose ID Card Group for its selection, expert service, and low price guarantee. To learn more, call (877) 868-0012 or visit http://www.IDCardGroup.com.
###