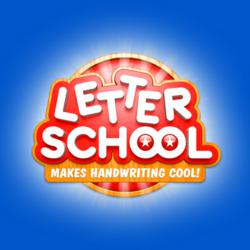 What a fantastic job these developers did! A handwriting lesson the fun way! Extremely enticing for kids and filled with colors, stars and praise. Certainly this is an app that should be in all preschool and kindergarten classes! BestAppsforKids.org
Alkmaar, the Netherlands (PRWEB) February 29, 2012
LetterSchool competes with advanced mobile games, boasting high-quality graphics, effects and animations at a level rarely seen in apps for young children. The game's greatest achievement is that it creates a very stimulating learning environment, offering kids a truly compelling gaming experience. It is a universal application for the iPad, iPhone and iPod touch.
The response to LetterSchool has been very enthusiastic. The highly positive reviews from parents and experts underscore LetterSchool's first-place win in the category "Best Educational Game" in the Best Apps Ever Awards 2011. Now the app has also been nominated for "Best Educational App" and "Best Mobile App for Homeschoolers'" in the Readers' Choice Awards 2012 on About.com. Voting is open through March 21 and winners will be announced on March 30.
In LetterSchool, young children learn all about letters and numbers: writing, counting, phonics and more. They work magic as they write letters and numbers with sparkling candy, squealing tires, cuddly animals, whistling trains and humming lawn mowers. The wide variety of games captures the attention and keeps players practicing their letters and numbers, over and over again. It's just like being at a party!
—Boreaal Publishers and PiMZ.com formed a select team of specialists for the LetterSchool project. The makers used all their experience in education, educational publishing, software development and computer graphics to achieve a fully intuitive game.
—Install the free lite version of LetterSchool, which will allow you to reach the gold level and test-drive the free-form writing game more quickly. You can also request a promotional code for the full version. Feel free to download our media kit containing high-resolution artwork.
LINKS
LetterSchool site: http://letterschool.com/
iTunes USA, LetterSchool Lite: http://itunes.apple.com/us/app/letterschool-lite/id481067676?mt=8
Best Educational App Award: http://ipod.about.com/library/RCA-2012/bl-RCA-2012-Finalists-Education.htm
Best Mobile App for Homeschoolers Award: http://homeschooling.about.com/library/bl-best-mobile-app-for-homeschoolers.htm
Media Kit: http://letterschool.com/download/letterschool_mediakit.zip
###