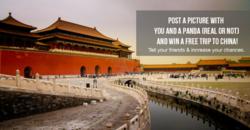 Facebook fans can win a free trip to China by posting a photo of themselves with a panda, real or not.
Monterey Park, CA (PRWEB) March 14, 2012
With spring around the corner, summer vacation planning is upon many travelers. No matter where their holiday takes them, planning their travel to a foreign country can feel like an immense project. Their flight is booked, only to begin the daunting task of researching places to see, hotels to book, where to eat, and how to get around town. A newly launched travel site, pandatrail.com, offers full land packages for popular China destinations including Beijing, Shanghai, Suzhou, Nanjing, Wuxi, Hangzhou and other cities, eliminating the need for travelers to plan their vacation on their own.
PandaTrail has teamed up with local tour operators to curate exclusive travel deals in China at discounts of up to 50% off regular rates. Land packages start at $249 per person for a 4-day trip in Beijing, including 5-star hotel accommodations, meals, ground transportation, admissions to attractions, and guided tours. In addition to access to exclusive deals, PandaTrail simplifies the budget traveler's experience of booking trips with a focus on personalized and friendly customer service, flexible cancellation policies, and no gimmicks or hidden fees in their pricing. This includes the ability to change the itinerary up to 10 days before the tour starts at no cost, a 7-day-no-questions-asked refund policy, and prices that don't vary based on high or low season.
As part of the launch of its new website, PandaTrail is offering a free trip for two to China to a lucky Facebook fan who posts a picture of themselves with a panda, real or not, on the website's Facebook page. A winning photo will be selected on March 31, 2012. The winner will receive a 4-Day Beijing Explorer package for two (a $498 value), which includes 3 nights accommodation at a 5-star hotel, meals, and guided tours of the Great Wall of China, Forbidden City, and other sites in and around Beijing.
About PandaTrail: At PandaTrail, the team loves to travel and believes that booking travel to China should be easy. Whether the traveler is already in China or still needs to arrange their own flight (with miles, points, or money), they can just add any of the PandaTrail tours, and voila! The traveler can be off to discover China, home of Pandas. With over twenty years of experience in tourism in U.S. and China, PandaTrail has teamed up with local tourism partners to curate exclusive travel deals at discounted prices. The budget traveler can save up to 50% on travel to Beijing, Shanghai, Hangzhou, Suzhou, and other cities in the land of Panda.
More information about PandaTrail's customer service philosophy and story can be found at http://www.pandatrail.com/our-story/. Fans can also follow PandaTrail via Facebook or @PandaTrail on Twitter.