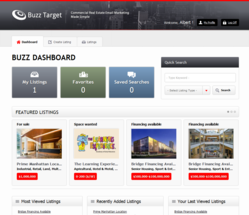 New York, NY (PRWEB) April 30, 2012
BuzzTarget.com, an innovative commercial real estate marketing portal and communications and networking forum, today announced several enhanced features and search options that will help members reach their target audience even more efficiently and cost-effectively.
Now, in addition to providing access to real-time and relevant commercial real estate email alerts, members can upload images or flyers, create customized listings, enable others to search for their posts, track responses, create statistical data, and manage private contacts.
Other exciting and innovative changes and updates to BuzzTarget.com include the ability to:

Create customized listings with convenient, easy-to-use templates
Email listings to thousands of well-targeted prospects
Advertise investment opportunities
Advertise commercial financing programs
These newest features and improvements allow users to enhance their marketing efforts; announce or receive new listings; call for or receive offers on listings; make important company announcements; and distribute news updates or any other email communications that need a large, important audience.
BuzzTarget's ground-breaking online marketing solutions are available at no charge to commercial real estate professionals across the U.S., including:
Brokers, Agents, Leasing Agents, Tenant Reps
Landlords, Owners, Developers
Tenants, Shopping Center Management
About BuzzTarget
BuzzTarget is an easy, cost-free portal for commercial real estate professionals to advertise and promote properties, financing programs, or investment opportunities and connect with their target audiences like never before. Through the enhanced website and convenient template system, users can quickly and easily customize property listings and email messages to send to targeted prospects or subscribe to receive information want segmented by industry, interest, or location. BuzzTarget is headquartered in New York, NY. Visit http://www.buzztarget.com