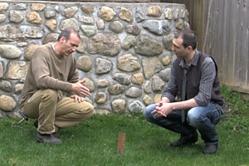 This may very well be the last year that homeowners in Burnaby have the advantage of not having to pay for soil testing...
Burnaby (PRWEB) April 19, 2012
In a video interview taken earlier this month, a well-known oil tank removal expert Fabio Chiesa has expressed his concerns about an increase in potential for oil spills in Burnaby and the surrounding areas as a result of this spring's rainfall.
Fabio is the owner of CERC Oil Tank Removal Vancouver, a company providing top class oil tank removal service for households and commercial properties in this part of the country for more than 20 years. His company also provides their high quality service for contaminated soil remediation, soil testing and sampling, pumping, cleaning, and filling.
In the video interview, Fabio has requested the residents of Burnaby to keep an eye out for the signs of oil leakage which, due to rising water levels and heavy rainfall, become most apparent at this time of year. Spillage takes place when the oil comes out to the surface as water enters the oil tanks. This type of oil spillage poses health risks for children and people with chemical sensitivities and asthma.
Also, tanks pitted with corrosion are known to leak substantial amounts of oil into the ground over time. This most often becomes apparent during the months of increased rainfall as the rain saturates the ground forcing the lighter-than-water oil to float up to the surface.
Apparently covering the area surrounding the Underground Storage Tank (UST) with a tarp is a very temporary solution that might buy a homeowner just a day or two before the oil rises to the surface. The best strategy, as explained in the video, is to ensure that the exposed fill pipe is capped, and that any oil pushed to the surface is treated with absorbent pads or kitty litter to minimize exposure to strong odours.
"This may very well be the last year that homeowners in Burnaby have the advantage of not having to pay for soil testing. The time to act is now..." warns Fabio as the climate of changing by-laws across the Lower Mainland, previously reported on their website indicates a likely rise in tank removal prices in near future.
To find out more about the dangers heavy rainfalls pose to the Burnaby residents, the full video interview with Fabio Chiesa is available at http://www.cerctankremoval.ca/burnaby-oil-tank-spills/
About the Company: CERC Oil Tank Removal Vancouver is a company that has been committed to providing eco-friendly oil tank removal and associated services in and around Greater Vancouver for more than two decades. Fabio Chiesa is the company owner and he frequently writes about the dangers of oil spills on his company website.