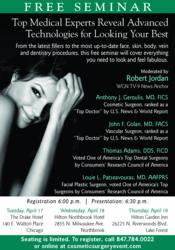 Top Medical Experts Reveal Advanced Technologies for Looking Your Best
Northfield. IL (PRWEB) March 28, 2012
Learn about the latest advancements in invisible incisions, faster healing and surgical and non-surgical procedures for facial rejuvenation, anti aging skin care, vein treatments, cosmetic dentistry and liposculpture at three free seminars led by sculptor, surgeon, author and professor of surgery, Dr. Anthony J. Geroulis, and other medical experts in facial plastic cosmetic surgery, vascular surgery and cosmetic dentistry.
News anchor, Robert Jordan Jr., will moderate a panel of premier medical experts who will cover topics from the latest fillers to the most up-to-date face, skin, body, vein and dentistry procedures. Meet with board-certified experts to hear their opinions of the benefits of elective procedures, speak with patients about their experience and see before and after results. The first 50 to register are eligible for a free facial digital imaging evaluation after the seminar, by appointment at North Shore Center for Facial, Plastic & Cosmetic Surgery in Northfield, Ill. While these seminars are free, reservations are required and can be made by calling 847 784 0022 or online at cosmeticsurgeryevent.com
These free seminars will be held at several convenient locations: Tuesday April 17 2012, at the Drake Hotel, 140 East Walton Street in Chicago, Wednesday April 18, at the Hilton Northbrook Hotel, 2855 North Milwaukee Avenue in Northbrook and Thursday, April 19, at Hilton Garden Inn, 26225 N. Riverwoods Boulevard, in Lake Forest . All presentations start at 6:30 pm and include a question and answer session that concludes at 8:30 pm.
Seminar topics include upper and lower eyelid procedures, face, neck and forehead lifts for men and women as well as body re-shaping, laser varicose and spider vein treatments, smile design makeovers and antiaging skin resurfacing treatments.
About the Panel of Experts
Board certified in Cosmetic Surgery, Dr. Anthony Geroulis is a Clinical Professor of Surgery at the University of Chicago Medical Center and was named a " Top Doctor" by U.S News & World Reports. He has perfected a revolutionary technique for surgery on the lower eyelids without external incisions.
Dr. Geroulis' private practice is headquartered at North Shore Center for Facial Plastic & Cosmetic Surgery in Northfield, Ill. He also sees patients at his offices on Michigan Avenue in Chicago, at the University of Chicago Medical Center in Chicago's Hyde Park neighborhood, and at St. Alexis Medical Center in Hoffman Estates, Ill.
John F. Golan, MD, FACS, has more than 26 years of experience in the treatment of spider and varicose veins. Ranked as "Top Doctor" by U.S. News & World Report and Chicago Magazine, Dr. Golan is board certified in vascular surgery and is a Senior Clinician Educator at the Pritzker School of Medicine. He is an attending vascular surgeon at NorthShore University HealthSystems. His practice, North Shore Vascular Associates Ltd., is located in Northfield.
Louie L. Patseavouras, MD, AAFPRS, listed as one of America's Top Surgeons by Consumers' Research Council of America, is a former Vice President of Public Affairs and director of the American Board of Facial Plastic and Reconstructive Surgery. Certified by the American Board of Facial Plastic & Reconstructive Surgery and the American Board of Cosmetic Surgery, he is medical director of the Center for Plastic and Laser Surgery in Greensboro, North Carolina.
Thomas Adams, DDS, FICD, received America's Top Dentists Award for Cosmetic and Implant Reconstructive Dental Surgery from Consumers' Research Council of America three years in a row. He is a member of the American Academy of Cosmetic Dentistry, American Free Seminar: Medical Experts Reveal Advanced Technologies for Looking Your Best Dental Association, Chicago Dental Society and both the American and International Academies of Implant Dentistry. Dr. Adams performs cosmetic, general and implant dentistry. He has offices in Chicago and Northfield.
WGN News at Nine Anchor, Robert Jordan, Jr., Ph.D., will moderate the panel discussions about these new discrete, cosmetic techniques and technologies that achieve longer lasting results and faster recovery.