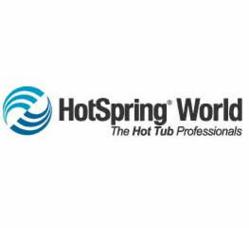 HotSpring World is proud to be a part of the silver medal winning 'Rooftop Workplace of Tomorrow' garden exhibit at the RHS Chelsea Flower Show with the Cube modular garden building.
(PRWEB UK) 25 May 2012
This week the HotSpring World Cube modular garden building is being featured at the Chelsea Flower Show, the UK's leading gardening exhibition. The Cube is a multi-function bespoke modular outdoor structure suitable for use as a hot tub shelter, guest house, sauna, home office or anything else one can think of. It is built in Estonia by EasyHome Ltd and distributed in the UK by Watkins Distribution through the HotSpring World chain of hot tub showrooms. With innovative features such as sliding walls, the Cube blurs the line between indoor and outdoor spaces.
The Cube is being featured in the 'Rooftop Workplace of Tomorrow' garden exhibit, designed by Patricia Fox and built by Giles Landscapes and Aralia Garden Design. The garden aims to challenge our perception of the workplace, providing an open air Wi-Fi enabled work area that might be found on an urban rooftop, integrating the functions of office and garden, and even including a 'pick your own' herbal tea bar. The Cube forms a covered lounge and conference area, providing protection from the weather. Combining beautiful planting and stylish contemporary furniture, the garden aims to herald a new way of working. This is Patricia's first time exhibiting at Chelsea, and the garden has been awarded a silver medal by the judges and featured on the BBC's television preview with Alan Titchmarsh.
Chelsea is the most prestigious and famous gardening exhibition in the world and is run each May by the Royal Horticultural Society in the grounds of the Royal Hospital Chelsea in London. It attracts over 150,000 visitors annually from all over the world, and features spectacular creations from the world's leading garden designers. Each year there is extensive BBC television coverage. This year the show runs from the 22nd to the 26th of May, and was kicked off by a visit from the Queen and the Duke of Edinburgh as part of the Diamond Jubilee celebrations.
Notes to Editors:
Word Count: 345 Words
About HotSpring World:
HotSpring® World is the UK retail brand name for Watkins Distribution UK Ltd. which supplies HotSpring® hot tubs, spas and accessories, as well as the Cube modular garden building, throughout the UK through its retail website and network of showrooms. HotSpring® is the leading brand of portable hot tubs and is a Registered Trademark of Watkins Manufacturing, the world's largest manufacturer of hot tubs and spas, which operates in over 60 countries worldwide. Find out more about HotSpring World at http://www.hotspringworld.co.uk.