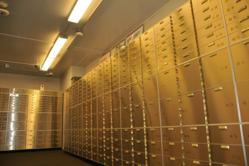 Security and complete customer privacy are our two primary concerns.
Beverly Hills, CA (PRWEB) July 25, 2012
U.S. Private Vaults (USPV), a company providing private safe deposit box rentals, has opened its first location in Beverly Hills, California. According to company President Steven Gregory, USPV is currently conducting tours of its high security steel vault to introduce the public to its services.
U.S. Private Vaults, Inc. describes itself as "THE PRIVATE ALTERNATIVE TO BANK SAFE DEPOSIT BOXES". USPV allows its customers easy, fast access to their safe deposit boxes. Unlike banks which are regulated by the federal government, USPV offers its customers the ability to rent a safe deposit box without providing their name or social security number. "Security and complete customer privacy are our two primary concerns" says Gregory.
"Most people don't realize that their bank is legally required to divulge client safe deposit box information if presented with a court order. This includes IRS tax liens, lawsuits, or even a spouse who is suing for divorce. Once this occurs, access to their personal valuables in their individual safe deposit box is frozen."
USPV uses sophisticated biometric security to identify its customers when entering their safe deposit box. Each individual must go through an automated iris scan in order to securely access their safe deposit box.
To gain access to the structural steel vault, a customer simply places his or her eyes in front of the iris scanner. "Unlike the sometimes lengthy and cumbersome process of accessing a bank safe deposit box, our customers can be in and out of the vault in five minutes or less" says Gregory
According to Gregory, the security at USPV exceeds that found at banks. "Our vault is equipped with a variety of sophisticated security systems to detect intruders during and after business hours (10AM to 6PM Monday-Friday and 11AM to 4PM Saturday). Unlike banks, we have numerous high definition cameras inside our vault. These cameras are remotely monitored 24/7 by national security company ADT. Further, in the event of an emergency, ADT will dispatch armed response teams with backup from both the Beverly Hills and Los Angeles Police Departments".
To protect customer's identities, USPV accepts payment in cash only. "Without a paper trail, we are unable to provide information to anyone about our customers" says Gregory.
The company plans to open several locations in southern California over the next two years before expanding to San Francisco and other major cities around the U.S.
For further information about U.S. Private Vaults, go to http://www.usprivatevaults.com or call 1-888-948-8778. Prices start at $395 per year. USPV is currently offering new customers three months free with a one year rental. Clients can anonymously reserve a box online at reserve.usprivatevaults.com.