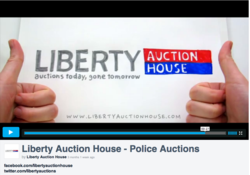 Our warehouse team can ship faster than anyone! You can expect a email within 60 seconds of your purchase with tracking information
Laguna Beach, California (PRWEB) July 28, 2012
LibertyAuctionHouse.com, a website known for the Free Police Auctions database, Adjusts Pricing for Shipping to a Flat $2.69, on every Daily Jewelry Deal and auction item, to Defeat the Competitors in the Space. Price Change effective August 1st.
"It's time that shipping and handling charges at brought back to earth. We expect little to no profit on the shipping of an item." Said Michael Strom, CEO of Liberty Auction House. "Our competition charges almost 5 times the amount we do for the same type of item"
Through warehouse technology efficiencies, and the utilization of the United States Post Office, Liberty Auction House can have an item out to ship within 60 seconds of the customer purchase. That'e barely enough time to review one of the government auctions on the site.
"Our warehouse team can ship faster than anyone! You can expect a email within 60 seconds of your purchase with tracking information." Said a warehouse employee. "We take pride in making our customer happy. I know when I buy something online, I can't wait to get it."
One of the biggest ways to save money is to use special shipping rates such as media mail. This is a service offered by the USPS that allows a company to ship things like books and DVDs or any other sort of media for relatively cheap.