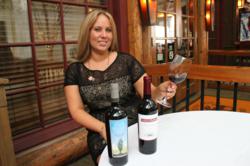 What we offer simply can't be found anywhere else and our guests love us for it.
Cleveland, TN (PRWEB) August 10, 2012
The Bald Headed Bistro began nearly eight years ago offering an elegant menu that infused the flavors and style of Jackson Hole, Wyoming into a charming Southern setting. Now, the Cleveland, Tennessee restaurant is home to Michelle Powers — a Certified Specialist of Wine (CSW).
Powers, who will serve as the Bistro's Director of Catering & Marketing, earned the CSW certification through the Society of Wine Educators.
"This certification is widely recognized and regarded by the international wine and spirits industry," said Josh Weekley, General Manager of the Bistro. "Not just anyone can pass the rigorous testing, which is why we recruited Michelle to our team. She could have gone anywhere, but came to the Bistro because of our reputation for excellence."
Weekley said the CSW testing required Powers to master key elements within the worlds of viticulture and wine production. Her areas of expertise include: physiology of taste, wine composition & chemistry; faults; viticulture & enology; labels, laws & wine regions; the U.S. wine industry; wine's contribution to health; wine etiquette & service; food & wine pairing; and responsible beverage alcohol service.
Prior to joining the Bistro, Powers spent 10 years as manager of dining at the Four Seasons in Kona, Hawaii. In her new role, she will oversee all catering and private parties, including weddings and wine tastings. She will also be on hand at the restaurant most nights of the week to make wine recommendations or to answer questions.
Wine Spectator Magazine has recognized the Bistro again in 2012 with its Award of Excellence, said Powers. The award is "for wine lists that offer a well-chosen selection of quality producers, along with a thematic match to the menu in both price and style."
Powers said those in the food industry respect the Bistro, not just for its extensive wine list, but also because the restaurant serves only the best ingredients, including prime meats hand-cut by the Bistro staff. Fresh fish is flown directly from locations including Hawaii. Menu staples include prime grade Bone-In Filet, Ribeyes, Wood Roasted Real prime grade Prime Rib and "next day caught" fresh seafood fare shipped in by Federal Express, including grouper, salmon and sea bass.
"Coming to the Bald Headed Bistro is a dining experience unlike any other and I am proud to join the team of excellence," said Powers. "We take pride in our guests enjoying a full-range of senses, from the unique western ambiance of the Bistro to the elegant dishes and extensive wine list. What we offer simply can't be found anywhere else and our guests love us for it."
The Bald Headed Bistro is located at 201 Keith Street in the Village Green Town Center.