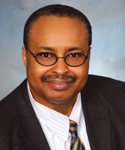 Dr. Ndubizu (is) an exemplary international accounting educator.
Philadelphia, PA (PRWEB) October 05, 2012
After receiving many outstanding nominations, the American Accounting Association awarded their 2012 Outstanding International Accounting Educator Award to Professor Gordian A. Ndubizu of the Accounting Department of LeBow College of Business, Drexel University, in Philadelphia, PA. for exceptional academic and professional achievements.
In presenting the Award, the Association stated:
"For over 28 years, Dr. Gordian A. Ndubizu has made a substantial contribution to international accounting education through outstanding research, teaching, mentoring PhD students, service to professional and academic organizations, and service to humanity. He is one of the pioneers and leaders that introduced empirical research technology to international accounting studies. These contributions make Dr. Ndubizu an exemplary international accounting educator.
In the area of research, Dr. Gordian Ndubizu's record speaks for itself. He has published 40 papers in elite and highly respected academic journals, four book chapters, 45 proceedings and presentation at academic conferences, and 16 invited presentations. Over 80 percent of his publications are in the area of international accounting. This research advanced our knowledge on (1) the connection between accounting and economic development, (2) foreign currency accounting, (3) global accounting for merger and acquisitions, and (4) accounting for cross-listing activities. His publications have appeared in The Accounting Review, Journal of International Business Studies, Journal of Accounting and Public Policy, Journal of Accounting Auditing and Finance, Journal of Business Finance and Accounting, Journal of Accounting and Business Research, The International Journal of Accounting, Advances in International Accounting, The International Journal of Information Management, The International Journal of Finance and Review of Quantitative Finance and Accounting.
Dr. Ndubizu has received many research awards. In 1991, he was rated Second Most Prolific Author in International Accounting in The International Journal of Accounting (26: 1-17). In 1997, Dr. Ndubizu was ranked Third Most Referenced Author in International Accounting in The International Journal of Accounting (32:203-234). He received the Ernst and Young Scholar Award in 1993. In 2004, Dr. Ndubizu received LeBow College's Distinguished Research Fellow Award for his distinguished record of scholarly publications.
Connected to his outstanding research, Dr. Ndubizu has supervised about 20 Ph.D. dissertations. Some of the dissertations have focused in international accounting, including Dr. Hong on IFRS in China. Another example is dissertation by Dr. Chernykh "Ultimate ownership and corporate performance in Russia" published in Journal of Financial Economics, 2008, p.169-192. Dr. Ndubizu has mentored and published papers with many of his Ph.D. students. Many of his doctoral students have also published in The Accounting Review, Journal of Accounting Research, Journal of Accounting and Public Policy, and Journal of Accounting Auditing and Finance.
Dr. Ndubizu has served on the Editorial Boards of many journals, including most U.S. international accounting journals. In addition, he has served as Ad Hoc reviewer for most major US and international journals.
Dr. Ndubizu has taught accounting and international accounting at undergraduate, graduate master level, and Ph.D. levels since 1985. He initiated and developed undergraduate, graduate and Ph.D. courses in international accounting at Drexel University. He has supervised over 50 independent studies in the area of international accounting. Many of Ndubizu's students have sent him unsolicited memo or letters indicating he had positive and profound impacts on their career.
Dr. Ndubizu has developed many new courses and revised existing financial accounting courses at Drexel University since his arrival in 1987. He has also initiated, developed and direct monthly research workshop that has attracted scholars around the nation. Example of scholars presenting at the workshop include David Solomon, James Ohlson, Ross Watts, Robert Verrecchia, Robert Holthausen, David Larcker, Richard Lambert, Robert Magee, Rashad A. Abdel-Khalik, Joshua Ronen, Trevor Harris, Ira Solomon, Paul Healy, Victor Pastena, Steve Lilien, Arnold Wright, John Wild, Cheng-few Lee, and Shyam Sunder.
Dr. Ndubizu has recruited numerous students to pursue Ph.D. studies in accounting and international accounting. Examples include Dr. David Hong, who completed his dissertation on IFRS in China and Nicole Thorn Jenkins, recruited while an undergraduate student at Drexel to join the Ph.D. program at Iowa State. She is now an Associate professor at Vanderbilt University.
Dr. Ndubizu has served the American Accounting Association and International Section for over 28 years in various capacities: He has served on the Advisory Board (2005- 2008), Annual Meeting Planning Chair (1997-1998), Research Committee Chair (2 terms), member of the executive committee of the International Section of the AAA (2 years), and serve in many committees, including Dissertation Award Committee (3 terms), Outstanding Educator Award Committee (2 terms), and AAA Outstanding Literature Awards (3 terms-1996, 1997, and 1992). Dr. Ndubizu also organized and 3chaired panel discussions on New Direction for International Accounting Research in 1997, 1998 and 1999 Annual Meetings. He has organized a panel session on International Regulators and Implementation of IFRS in Emerging Economies for 2010 AAA Annual Meeting in San Francisco.
Dr. Ndubizu has served the global community and humanity by setting up the Ndubizu Charitable Foundation to provide small business grants to poor widows and scholarships for poor orphans in Africa (see ndubizucharitablefoundation.org). Because of his profound commitment to the global poor, the Blessed Tansi Igbo Catholic Community of Saint Cyprian in Philadelphia awarded Dr. Ndubizu the Spirit Award in 2009. His foundation has awarded over 800 scholarships and grants to poor orphans and widows.
Dr. Ndubizu has also served on numerous boards, including Health Care Pharmacy, Inc, Global Energy and Commodity Limited, Lead Now Foundation, West Windsor Plainsboro Education Foundation, Peoples Club International, Medical Aid for Rural Africa, Post Office Customer Advisory Board, Ndubizu Charitable Foundation, and Philadelphia Miniversity founded by late Rev. Sullivan, and Advisory Board AAA International Section.
It is his very passionate, enthusiastic, and pro-long commitment to the advancement of international accounting education through outstanding and exemplary research, teaching, mentoring, and service to profession and philanthropist for global poor that set him apart from many other exemplary scholars. Professor Gordian A. Ndubizu is thus a most deserving recipient of the 2012 Outstanding Educator Award."