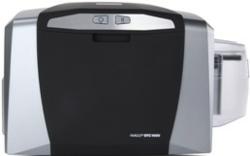 New Fargo DTC1000 revolutionize and simplify printing process in your bussines
Distrito Federal, Mexico (PRWEB) October 16, 2012
Using the DTC1000 couldn't be easier. Its plug-and-play Swift ID embedded badging application reinforces convenience by eliminating the need to install application software. This means the printer is ready to use right out of the box.
The new advanced generation of Fargo DTC1000 printer is comprehensive, reliable and flexible, providing color and technology card personalization with upgradeable security and scaleable equipment. It features an intuitive user experience, sleek and adaptable design and innovative tools to help any organization efficiently migrate to a higher level of security.
Its small footprint makes it easy for the DTC1000 to accommodate any desktop configuration, and the intuitive user-focused design communicates system status through color-coded buttons.
With convenience in mind, DTC1000 easy-loading, all-in-one print ribbon and card cleaning cartridge simplify the ribbon and cleaning roller loading process. You get professional quality, color ID cards and security encoding--reliably--all in one pass. Operation and supply replacement are both intuitive, making training completely unnecessary.
Versatile and affordable, the Fargo DTC1000 Impresora PVC is ahead of every other card printer in its class. It encodes and prints exceptional, high-quality photo ID cards, allowing for full-color edge-to-edge images. Alternatively, economical half-panel ribbons personalize pre-printed cards with a photo and bar code.
Getting the most out of the DTC1000 to meet your specific card printing and encoding needs is simple. Take advantage of the built-in and optional features that suit your business:
Built-in erase and rewrite feature. Helps eliminate the waste of short-lived cards (visitor badges, transit cards, etc). It's all done with special heat-sensitive cards — no conventional print ribbon is involved.
Cards thick or thin. Out of the box, the DTC1000 prints on ID cards as thin as 9 mil and thicker smart cards up to 40 mil. Single or dual-sided printing. Optional dual-sided printing module provides more space for company or cardholder information and security features. Stand-alone or networked environment. Ethernet with internal print server as an option allows for remote printer sharing by many users.
We develop in Mexico Fargo Impresora Credenciales that print up to 210 cards/hour in color, 400 cards/hour in monochrome getting the wide large capacity and high speed printing. Smart design plus configuration flexibility gives you a simple ID card printer that does exactly what you want it to do, with no training, easy supply replacement, and no additional software required..
About MBCEStore Mexico
MBCEStore Mexico is the expert in building card identity systems that help make your organization more productive — whether you issue full-color technology cards or basic monochrome photo IDs. Best of all, the technology is backed by the trusted industry expert in the delivery of secure identity solutions. For more information call us in Mexico (55) 5351-6152 or visit us http://www.mbcestore.com.mx.