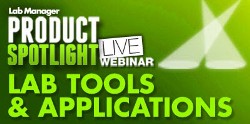 "Developing technology solutions to assist laboratories in improving service quality and productivity."
Midland, ON (PRWEB) November 09, 2012
Does anyone within your organization have a clear picture or understanding of how exactly the assets in your laboratory are being utilized? Are they being used to their full potential, or is there more that can be done? Learn how to capture instrument utilization data and turn it into gold.
Knowing how instruments are utilized throughout the laboratory is vitally important information to help optimize operations, reduce operating expenses and improve productivity.
The problem:
Capturing information on instrument utilization in a lab that is comprised of an array of different manufacturers, techniques, control software and computer platforms can present the ultimate challenge.
Knowledge is Power:
This webinar provides solutions to overcoming these challenges, and gives critical information tailored to help deliver a comprehensive asset utilization monitoring solution within any dynamic laboratory environment.
Learn how to:

Identify barriers to capturing useful data
Seamlessly capture knowledge regarding how your instruments are utilized
Identify data elements that need to be collected and analyzed
To take advantage of this free Webinar, click here: Register Now.
Who should attend?
This webinar is ideal for: lab managers, lab technicians, scientists, chief executive officers (CEOs), chief risk officers (CRO), chief compliance officers (CCO), equipment purchasing agents, laboratory leaders, post doc graduates, procurement managers, and many more.
Agenda:
This session is slated for 60 minutes and will be broken down into a 40-minute presentation with a 20-minute open forum for a live Q & A, all using the GoToWebinar platform. After the session, all attendees will receive links to the presentation materials posted on LabManager.com.
Presenter:
Keith Martinko has been with Thermo Fisher Scientific for more than five years and is responsible for developing technology solutions to assist laboratories in improving service quality and productivity. His current team consists of both hardware and software engineers that design innovative information and service products tailored to solve problems faced by today's multi-vendor, multi-technique laboratories.
When: Wednesday November 14, 2012
Where: Live Web Event via GoToWebinar Platform; a link will be provided after free registration: Click Here to Begin
Time: 12:30pm to 1:30pm EDT
Follow Us:
Facebook: http://www.facebook.com/labmanager
Twitter: http://www.twitter.com/LabManager
LinkedIn http://www.linkedin.com/groups/Lab-Manager-Magazine-2531919
About Lab Manager Magazine
Lab Manager Magazine delivers practical business and technology insights to today's lab professionals with more relevant management, financial, and purchasing information than any other industry publication. Our writers, including chemistry and biology Ph.D.s with lab management experience, know the market and know the challenges facing today's research professional. Everyone generates content. Lab Manager Magazine provides intelligence. That's why a growing number of lab professionals turn to Lab Manager Magazine to stay abreast of the latest technology developments, applications, comparisons, and analyses, as well as business and industry trends.