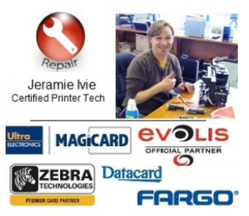 We see it all too often – cleaning and maintenance are skipped and the result is degraded print quality, expensive repairs, or early replacement.
West Sacramento, CA (PRWEB) December 13, 2012
ID Card Group, a leading provider of ID card printers, systems, supplies, and accessories is now offering ID printer repair and maintenance services for all major brands.
Trained and certified by the leading ID card printing manufacturers, ID Card Group's expert technicians are available to perform routine maintenance; install upgrades and/or replacement parts; handle warranty repairs; and troubleshoot and repair problems – all of which help extend a card printer's life.
"We know printer cleaning and maintenance are easily overlooked," says Mark Soeth, ID Card Group president. "We see it all too often – cleaning is skipped and the result is degraded print quality, expensive repairs, or early replacement. The truth is a regular cleaning regime and diagnostic have helped our customers extend their ID printer's performance and card printing quality at a reduced cost."
ID Card Group reports the top five printer problems it sees are due to 1) Lack of regular printer cleaning; 2) Damaged print heads; 3) Aged/worn belts; 4) Jammed cards / torn ribbons; and 5) Age
All repair work is initiated over the phone with a free phone consult. If a diagnostic is recommended – or warranty work needed - the customer sends the ID printer to ID Card Group where its expert technicians troubleshoot the printer problem and conduct a thorough printer cleaning. When applicable, firmware is upgraded.
If a malfunction is detected and it requires a minor repair - such as resetting a belt or removing debris – ID Card Group's technicians will make the minor correction without additional cost. These corrections are made at the technician's discretion.
If the diagnostic reveals a more serious repair is needed, parts and labor costs are calculated and submitted for the customer's approval before any further work is done. Parts generally require 7-10 days delivery and, depending on the extent of repair, 3-5 days for the work to be performed.
In the rare instance that a printer is beyond repair, ID Card Group will credit the cost of the diagnostic towards a new printer of the customer's choosing.
In general, most models three years old or less have common repair needs and are likely to be repairable. Older models - or newer printers with extensive problems or damage - may not be repairable.
For customers wanting to clean and maintain their own printers, ID Card Group offers its cost-saving line of printer cleaning kits for all name-brand ID printers. ID Card Group's cleaning kits work as well as name-brand kits, but cost up to 60 percent less.
Cleaning kit contents include the following, depending upon the ID printer's cleaning needs:
Thermal Printhead Cleaning Pen – to remove ink and contamination build up
5 Cleaning Cards – in short, long, extra long lengths to remove dust and debris from the print path, including card transport rollers
5 ISO Cleaning Cards – for quick cleaning of the print path
5 Snap Swabs – to thoroughly clean the printhead
5 Wipes – to remove debris from the print rollers
ID Card Group sells a wide range of ID card printers, cleaning kits, and supplies from leading manufacturers, such as Magicard, Zebra, Fargo, Evolis, and Datacard. Every ID card printer is backed by ID Card Group's low price guarantee, as are all products in the store.
About ID Card Group
ID Card Group offers a full line of ID card equipment, supplies, and accessories – from identification and access control products, to promotional products for loyalty or membership programs, to gift, payment, or phone cards and systems. Industries such as business, schools, government, military, law enforcement, healthcare, gaming, hospitality, trade shows/conventions, sports & entertainment and more choose ID Card Group for its selection, expert service, and low price guarantee. To learn more, call (877) 868-0012 or visit http://www.IDCardGroup.com.