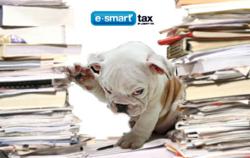 The waiting game can delay finishing your return and getting your refund
Virginia Beach, VA (PRWEB) December 28, 2012
While most people begin with cleaning up their junk drawers to get going on their personal "get organized" New Year's resolutions, eSmart Tax recommends starting with the tax documents drawer instead. As a leader in federal and state online tax preparation, eSmart Tax has developed a tool that makes it easy to stick to that New Year's resolution—at least when it comes to taxes—with their Getting Organized Guide.
eSmart Tax's easy-to-use Getting Organized Guide offers a comprehensive breakdown of all the documents needed to prepare a tax return. The guide helps users pull together all of their tax documents so that users have them handy during eSmart Tax's easy interview process. Users can quickly answer tax questions and finish their taxes fast. eSmart Tax's Getting Organized guide offers a few tips like:

Gather all income information. This includes tax statements from employers, banks or financial institutions, government tax statements, and statements from any educational institutions.
Getting organized for taxes is all about gathering evidence of about a financial situation. Consider personal activities and transactions from last year. Did the taxpayer move? Did the taxpayer pay home mortgage or investment interest? These documents could be evidence of entitlement to certain deductions.
Did the taxpayer use his or her home for business or a personal car for business travel? These expenses can be claimed as deductions too!
Visit the Getting Organized Guide for more tips and documents to consider.
"Searching for financial documents is the most time-consuming part about tax preparation," says Paul Walters, eSmart Tax's Marketing Director. "The waiting game can cause significant delays for taxpayers attempting to finish their returns and further delay when taxpayers receive their refunds. Getting organized ahead of time can save time, money, and headaches."
eSmart Tax's Getting Organized Guide will illustrate a basic picture of a client's financial situation, which helps customers choose the right eSmart Tax product.
Filing is easy with the combined powers of the Getting Organized guide and all of eSmart Tax's support features:
Get instant help! Chat live with Customer Support
Satisfaction, accuracy, and the BIGGEST refund – Guaranteed!
Taking on the IRS? Liberty Tax Service-certified CPAs can help with the CPA Audit Assistance that's included for free with all eSmart Tax products.
About eSmart Tax by Liberty Tax Service:
eSmart Tax is Liberty Tax Service's online tax preparation service that offers a convenient, easy-to-use, browser-based tax-filing system. eSmart Tax provides an exceptional online tax preparation solution at an affordable value. A fan favorite among About.com readers, eSmart Tax was voted Best Tax Software in 2011. With the powerhouse team of eSmart Tax's online tax preparation service and Liberty Tax Service's offices, ultimate customer satisfaction is guaranteed.