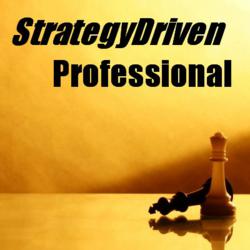 Career advancement is always available to those professionals who are prepared.
Atlanta, Georgia (PRWEB) December 26, 2012
Individual career aspirations are uniquely different and increasingly difficult to achieve in today's hyper competitive workplace environment. Knowing what developmental activities to pursue and how to navigate corporate politics can be problematic.
Today, StrategyDriven launched the StrategyDriven Professional (http://www.StrategyDrivenProfessional.com) to help individuals at all career levels create and execute the forward-looking strategy they need to gain a competitive advantage over peers and improve their chances of achieving their professional goals.
"The ongoing economic malaise has tightened the job market from both a growth and upward mobility perspective," explains Karen Juliano, StrategyDriven's Editor-in-Chief. "However, accelerating economic growth coupled with the mass retirement of the baby boomer workforce will create significant opportunity for those remaining professionals ready to assume management and leadership positions; which is why we developed the StrategyDriven Professional website."
The StrategyDriven Professional expands on StrategyDriven's core philosophy of achieving exceptional results through alignment and accountability to established goals. The website provides the actionable advice, tools, and practices needed to accelerate readers' career and personal goals achievement. Its many articles and podcasts cover those topics critical to career goal achievement including: Management, Leadership, Professional Development, and Personal Performance Improvement.
About StrategyDriven
StrategyDriven offers the benefits of an experienced, degreed leadership team without the associated expense. Developed by management and training professionals, StrategyDriven provides executives, managers, and professionals a wide array of best practice business planning and execution tools; how-to advice; example-rich podcasts; and customizable ready-to-use templates.
We believe creation of a clear, forward-looking strategy, translatable to the day-to-day activities of all organization members, is critical to realizing success in today's fast paced market environment. Not only does a compelling, well-executed strategy align individuals to a common purpose, it ensures that purpose best serves the company's mission. As such, the StrategyDriven website contains discussion forums related to the programs and activities necessary for readers to create and pursue their organization's vision of success. Complementing these resources are the several StrategyDriven Podcasts; discussing in rich, example-filled detail the various programs and activities described on our website.
StrategyDriven provides real-world applications of strategic business planning and tactical execution best practices – a blending of information and experience practically applied in the workplace combined with a degree of research and academia – to small-to-medium size and large company business unit leaders that wouldn't otherwise have access to these resources.
For more information, please visit http://www.StrategyDriven.com.