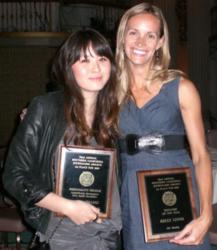 Contest has attracted entries from news powerhouses in newspapers, magazines, radio & TV and online--as well as the solitary blogger
Hollywood, CA (PRWEB) April 15, 2012
The 54th Annual Los Angeles Press Club Journalism Awards will be one of the most competitive in years.
The largest media contest in the Southland attracted more than 700 entries, over 100 more than last year, according to Diana Ljungaeus, the LA Press Club's executive director. Sports and student entries will close Monday.
Judging by sister press clubs around the country will begin next week. Judges will be looking for the best work in 2011 by journalists filing on all media platforms.
"The awards have attracted SoCal news powerhouses," said Club president Will Lewis. "LA Times, KPCC, The Hollywood Reporter, KCET, Bloomberg News, Jewish Journal, KCRW, LA Weekly, Deadline Hollywood have become corporate members of the club for 2012."
Finalists will be invited to the Awards Gala, June 24 in the legendary Crystal Ballroom at the historic Millennium Biltmore. Investigative reporters Bob Woodward and Carl Bernstein are being honored with the President's Award for Impact on the Media on the 40th anniversary of Watergate.
The Club will also commemorate the 10th anniversary of the Daniel Pearl Award for Courage and Integrity in honor of the slain Wall Street Journal reporter.
Other honorees include David Goldstein, KCAL9/CBS2 investigative reporter who will receive the Quinn award for lifetime achievement as well as the investigative team at KCET's SoCal Connected who will receive the Club's second Public Service Award for exposing lavish spending at HACLA, the agency for housing LA's poor.
Tickets, tables and advertising for the Gala sponsored by Wells Fargo and Southern California Public Radio. KPCC 89.3 FM are available at http://bit.ly/HG9t65.