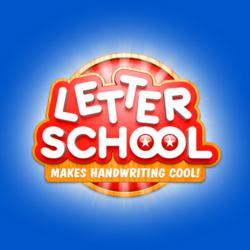 Learning to write letters and numerals will never be the same after a child tries LetterSchool - Children's Technology Review
Alkmaar, the Netherlands (PRWEB) May 31, 2012
The purchase of instructional materials is an annually recurring expense for schools that involves large sums of money. Following the rise of tablets, an increasing number of schools are choosing to purchase educational apps rather than traditional instructional materials and software. The speed with which new (digital) developments follow one another in this day and age means traditional instructional materials have a short shelf life. Schools that must cope with budget cuts on one hand and must innovate on the other can no longer afford the high cost of quickly outdated instructional materials, and they must search for alternatives. In the face of all these changes, it is crucial that educational quality remain the top priority.
By spending $2.99 on LetterSchool, schools not only save money on expensive handwriting methods and software, but also on precious teaching time. Overfull curricula leave little room for handwriting lessons. Moreover, those lessons often make less than optimal use of the available time. There are several reasons for this. Many schools consider handwriting skills a lesser subject. In studies, many teachers indicate that they received poor handwriting instruction themselves. In its simplicity and ingenuity, LetterSchool has already succeeded within half a year in doing what handwriting education has struggled with for decades: making learning to write fun and efficient. This app has completely revamped the process of learning to write with its surprising, innovative approach to handwriting instruction, its outstanding quality and its high replay value.
There seems to be no end to the acclaim being showered on mobile game LetterSchool. In May 2012 LetterSchool was nominated for the Media Ukkie Awards at Mediawijzer.net, a nationwide Dutch expertise center for media literacy. In April, the app also won a prestigious award from Children's Technology Review, which honors only the highest-quality children's products in interactive media. The report says, "Learning to write letters and numerals will never be the same after a child tries LetterSchool on an iPad's slippery screen. This single app from the Netherlands has raised the bar for all letter/numeral recognition apps." The continuous highly positive response from parents and experts underscores LetterSchool's important role as an innovator in handwriting instruction. A list of all the app's awards and reviews is available at LetterSchool.com.
LetterSchool competes with advanced mobile games, boasting high-quality graphics, effects and animations at a level rarely seen in apps for young children. The game's greatest achievement is that it creates a very stimulating learning environment, offering kids a truly compelling gaming experience. This simple, consistent, clue-based method is designed to work for all children. As many people have experienced, the things people discover on their own stick with them the longest. LetterSchool guides kids by providing subtle yet highly effective visual and auditory feedback when it intelligently detects that they need a hand. This way, young players are completely free to explore the mysterious world of letters, acquiring letter and number fluency in their own, intuitive way.
In order to make LetterSchool a rock-solid piece of software, Boreaal Publishers and PiMZ didn't just rely on their own experience in education, software development and computer graphics—little experts tested the app thoroughly, leaving no stone unturned. LetterSchool is a universal application for the iPad, iPhone and iPod touch.
—Install the free lite version of LetterSchool which will allow you to reach the gold level and test-drive the free-form writing game more quickly. You can also request a promotional code for the full version. Feel free to ask for our media kit containing high-resolution artwork on the contact page of our website.
LINKS
LetterSchool website:
http://letterschool.com/
LetterSchool video:
http://youtu.be/4sDZqBMqG-4
iTunes, LetterSchool:
http://itunes.apple.com/us/app/letterschool/id435476174?mt=8
iTunes, LetterSchool Lite:
http://itunes.apple.com/us/app/letterschool-lite/id481067676?mt=8
Overview of awards and reviews:
http://letterschool.com/reviews.html
"The Prospect of One Tablet Per Child" by Susan McLester, District Administration, May 30, 2012:
http://www.districtadministration.com/news/prospect-one-tablet-child