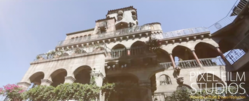 With over 60,000 total Views on our film this quarter we feel Pixel FIlm Studios is on it's way to taking over the wedding video and photography market in Southern California
Riverside, California (PRWEB) August 06, 2012
Luxurious Weddings at The Mission Inn Hotel & Spa can only be enhanced behind the lenses at Pixel FIlm Studios. With its breathtaking architecture, romance and European charm, The Mission Inn Hotel & Spa becomes a grand stage for creating unforgettable memories as you celebrate your new life together.
"Mission Inn is an amazing place for a wedding film to take place," said Christina Austin, Owner of Pixel FIlm Studios, in Aliso Viejo California. "The architecture and is beautiful and the history takes you over as soon as you approach the courtyard."
For over a hundred years,leaders of the world and movie stars – from Ronald and Nancy Reagan to Richard and Pat Nixon, and screen legend Bette Davis – have married or honeymooned at The Mission Inn Hotel.
"We knew when we saw the courtyard that is was time to get the jib out and start scaling the walls with the camera," said Christina. "Shots like that are one of the many reasons the film went socially viral. With over 60,000 total Views on our film this quarter we feel Pixel FIlm Studios is on it's way to taking over the wedding video and photography market in Southern California."
Referred to as the "Crown Jewel" of Inland Southern California, The Mission Inn Hotel & Spa offers many inspirational reception sites in the Riverside, California area, including the region's only hotel chapel – the exquisite St. Francis of Assisi.
"The Mission Inn Wedding Church is very difficult if you don't have the right equipment," said a Pixel FIlm Studios crew member. "Without fast lenses the church would be almost black on film."
The magical wooden doors open to reveal your future, surrounded by family and friends, amber lit by the glow of Louis C. Tiffany stained glass windows creating the grand entrance you have waited for your entire life.
About Pixel FIlm Studios-
Pixel Film Studios is a Film and Photography company in Aliso Viejo, California. A commercial production company specializing in high energy fitness commercials. Pixel Film Studio's innovative approaches in cinematography, film technology, and post-production come together to form a creative, natural, and expressive visual experience.