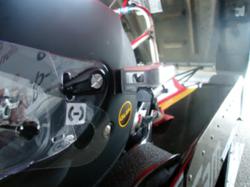 It's where the latest racing technology can be seen for Dirt, Asphalt, Off-Road, Drag, OvalTrack, Marine, Karting, Cycling and Much More
Rochester, NY (PRWEB) October 31, 2012
P.E.D. Products, the manufacturer of the smallest HD action video camera, the ActionCam, will have a display booth at one of the largest, Upstate NY trade shows for the automotive enthusiast, racer and parts suppliers; The 33rd Annual National Parts Peddler Trade Show. The fact that the ActionCam is such a great fit in the motorsports market, we feel the Parts Peddler show will give us great exposure to the racers and hobbyists alike.
The ActionCam is an ultra small action video camera that produces high quality true HD 720P video. Small enough and rugged enough, it can be mounted almost anywhere; it's a fraction the size of it's competition and only weighs 1.2 ozs!! It allows you to capture all your Action Videos, here are just a few of the uses people are using the ActionCam for; Car Racing, Motorcycle Racing, BMX Bikes, Cycling, Skiing, Hang Gliding, Hunting, RC Cars & Boats, Rock Climbing, etc. Whatever your passion.
The National Parts Peddler Trade show is one of the largest across the U.S. and Canada. It's where the latest racing technology can be seen for Dirt, Asphalt, Off-Road, Drag, OvalTrack, Marine, Karting, Cycling and Much More. It is also the place to meet Race Drivers, Chassis Builders, Manufacturers and Racers.
Come check out the ActionCam booth, and receive a special show discount. The show is at the N.Y.S. Fairgrounds in Syracuse; November 16, 17 & 18. For more information on the show, visit the Parts Peddler website;
http://partspeddler.us
For more information about The ActionCam, visit the P.E.D. Products website;
http://ped-products.com