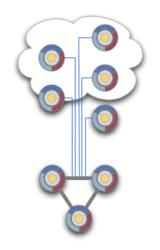 San Francisco, CA (PRWEB) October 05, 2012
Caucho Technology, the leader in high performance application servers, today announced, Resin® Pro clustering and "deploy once" technology just works in Amazon EC2.
Caucho, in its pursuit of craftsmanship, wanted a Java EE clustering solution that just works in the cloud from end to end. As part of this effort, Resin clustering was modified to easily work in the confines of EC2. The true battle was getting the operational predictability of Resin clustering in an Amazon EC2 environment. Resin clustering relies on configured ahead of time topology for its triad hub to work in a dynamic cloud environment like EC2. A solution was found that combines the operation predictability of Resin with the advanced virtualization of Amazon EC2.
Caucho's engineers use Amazon EC2 Dynamic IP to securely exchange clustering topology. This allows for the combination of Amazon's dynamic IAAS environment with the operational predictable, Java EE clustering of Resin Pro. Dynamic spokes and solid, fault tolerant triad hub are key to Resin Pro's operational predictability, and cloud elasticity.
Caucho's clustering support also offers remote deployment of configuration as well as Java EE applications. This allows deployment to the entire cluster running in Amazon EC2 with one simple command.
With Amazon EC2 you can spin up more instances running Resin application server (link goes to demo video). The new dynamic Resin nodes get the same running applications that were deployed to the cluster automatically. This is the concept of "deploy once". Cloud deployment is not a complicated after thought, but baked right into Resin Pro clustering, and works in Amazon EC2 as well as other virtualization 2.0 environments.
Scott Ferguson, Chief Architect of Caucho Technology said the following: "Our philosophy has always been it should all 'just work'. With Resin you get a complete web solution. Resin pieces are designed to work together, and designed to support production deployments. To support cloud, you need clustering that works with Java EE and you need "deploy once" deployment that works with the cloud. Using Resin means you value craftsmanship. Discerning, informed organizations realize an application server needs to support production cloud deployments."
Resin runs over 4.7 million global sites, bested NginX and Apache httpd in performance, and was named a cool vendor and a visionary by a leading industry analyst in 2010, 2011 and 2012.
Resin's web server, included as part of a Java EE certified package, features: Static file handling, Reverse proxy, HTTP proxy cache, SSL with OpenSSL, Load balancing, URL rewrite, CGI and FastCGI. Resin 4 was the first Java EE Web Profile certified Java application server. Resin 4 was built from the ground up around Java Dependency Injection (CDI). Resin is over 13 years old, yet it has kept up with the times. Resin 4 has been optimized to work in cloud computing environments like Amazon EC2.
"The addition of our Resin admin tools, Java application monitoring, and our EC2 cloud/clustering support really helps organizations to migrate to the cloud. It makes managing and deploying to dozens of application servers almost as easy as managing just one." Ferguson added.
"Come see Caucho technologies at JavaOne this week. We are at booth 5505," said Steve Montal, CEO of Caucho Technology. Montal added, "Caucho's focus of craftsmanship makes Resin a total web application solution that is designed to work together and fast."
Resin goes beyond basic Java EE Web profile support and provides you all the features you need to scale out your web application. Resin provides a Java Web server that outperforms Apache httpd, cloud/cluster aware load balancer, HTTP proxy caching, distributed cache (JCache API or Memcached wire protocol), messaging (JMS), and third generation clustering not to mention action-based Java Monitoring, and Java Profiling with OS monitoring built-in.
Caucho Technology
Caucho's relentless quest for performance and reliability paved the way for Resin to become one of the leading open source Java application servers since 1998. Our engineers' dedication to the development, support and evolution of the Resin Java EE 6 Web Profile continues to uphold our reputation for quality, performance and manageability. Caucho has provided over 4.7 million organizations worldwide including start-ups, governments and Fortune 1000 companies' solutions to build and grow their business with Resin, one of the most flexible and powerful Java application servers. Our offices are located in San Diego and San Francisco.
Caucho has a philosophy that things should "just work", and provides and end to end web application solution so developers can spend their time on providing business value and not configuring infrastructure. Caucho believes in true software craftsmanship.
Resin Application server
Resin Pro, Caucho's Java EE certified application server, features Java EE Web Profile support, Resin cloud support (3rd generation clustering technology), Resin JAMM (Java application monitoring and management), Resin Web Server, Hessian - binary transport protocol, Quercus - PHP on the JVM, Resin Cache - distributed cache server, and Resin Queue - messaging server. Resin has a 14-year reputation for speed and scalability. Leading companies worldwide with demands for reliability and high performance web applications including the Toronto Stock Exchange, Salesforce.com and CNET are powered by Resin.
Resin Open Source: Resin Servlet and JSP Container
Resin Servlet and JSP Container is a GPL Open Source Java EE implementation as well as a full featured web server that is faster than Apache httpd.
Contact Information
Theresa Nguyen
Vice President, Caucho Technology, Inc.
Telephone: (858) 456-0300
Direct: (858) 361-2736
theresa(at)caucho(dot)com
http://www.caucho.com/