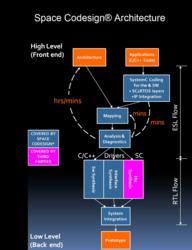 SpaceStudio toolset allows electronic design engineers to perform modern hardware software partitioning and automated ESL implementations with greater ease than before.
Montreal, QC (PRWEB) May 22, 2012
Space Codesign Systems today announced that it is a new member in the ARM Connected Community, the industry's largest ecosystem of ARM technology-based products and services. Space Codesign will gain access to a full range of resources to help it market and deploy its SpaceStudio™ design tool, enabling developers to get their ARM Powered® products to market faster.
The SpaceStudio toolset uniquely allows embedded system designers to perform true hardware software co-design by dragging and dropping a C function into either HW or SW implementation modules. This would result in faster design exploration, validation and performance analysis, without the need to change any of their application code. Being an end-to-end automation tool, it reduces the time required to perform system on a chip (SoC) design implementation in FPGA or in ASIC; it lowers development cycle time and costs, and creates better code for embedded systems.
"Joining the ARM Connected Community is of great benefit to us and the ARM ecosystem," said Guy Bois, Ph.D., P. Eng., and President of Space Codesign Systems, "As most of the complex semiconductor implementations are done using ARM processor-based SoCs nowadays, the SpaceStudio toolset allows electronic design engineers to perform modern hardware software partitioning and automated ESL implementations with greater ease than before."
Space Codesign will be exhibiting at this year's 49th Design Automation Conference (DAC), with a display in the ARM Connected Community Pavilion. The 2012 DAC conference, scheduled for June 3-7, 2012 in San Francisco, is the premier event for the design of electronic circuits and systems, and for EDA and silicon solutions. Space Codesign will make a presentation called "ESL Methods for HW/SW Co-Design for ARM Processor-Based FPGA" at the ARM Connected Community Pavilion on Monday June 4th at 3:00 pm at ARM Booth #1414.
The ARM Connected Community is a global network of companies aligned to provide a complete solution, from design to manufacture and end use, for products based on the ARM architecture. ARM offers a variety of resources to Community members, including promotional programs and peer-networking opportunities that enable a variety of ARM Partners to come together to provide end-to-end customer solutions. Visitors to the ARM Connected Community have the ability to contact members directly through the website.
"The Connected Community is about companies working together to provide the most complete solutions in the shortest possible time. By joining the Community, which now comprises more than 900 companies, Space Codesign increases the large portfolio of skills, products and services that are centred around the ARM architecture, and currently available to developers worldwide," said Lori Kate Smith, Sr. Manager Community Programs for ARM.
For more information, visit the ARM Connected Community, check Space Codesign's hardware software co-design solution, or visit them at the DAC conference.
About Space Codesign Systems:
Founded in 2008, Space Codesign® Systems, Inc. is the developer of SpaceStudio™, the only ESL (Electronic System Level) design technology that enables end-to-end automated hardware/software co-design - from high-level functional specification to the architectural and RTL(Registered Transfer Level) coding phase. Revolutionizing HW/SW partitioning with a drag & drop approach, SpaceStudio allows system architects to move components from hardware to software and vise versa with the click of a mouse. There is no more need to recode functions for hardware or software, no need to change memory mapping, and no need to use predefined hardware.
This pioneering HW/SW co-design technology integrates smoothly with other EDA (Electronic Design Automation) tools and enables electronics engineers to enjoy a higher level of abstraction and executable representation for embedded systems design in aerospace and commercial multimedia applications.
Space Codesign Systems is represented by EDATechForce to expand its sales and support presence in the US, primarily focusing on the western US states.
###
ARM and Connected Community are registered trademarks of ARM Limited. Cortex is a trademark of ARM Limited. All other brands or product names are the property of their respective holders. "ARM" is used to represent ARM Holdings plc; its operating company ARM Limited; and the regional subsidiaries: ARM, Inc.; ARM KK; ARM Korea Ltd.; ARM Taiwan Limited; ARM France SAS; ARM Consulting (Shanghai) Co. Ltd.; ARM Belgium N.V.; AXYS Design Automation Inc.; ARM Germany GmbH; ARM Embedded Technologies Pvt. Ltd.; ARM Norway, AS; and ARM Sweden AB.