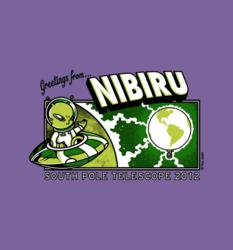 Available in toddler and youth sizes is a set of South Pole Telescope t-shirts, an exclusive reissue of team shirts.
Santa Cruz, CA (PRWEB) December 27, 2012
Online retailer Tees For Your Head is expanding its product line again, adding toddler sizes to satisfy customer requests. All colors available include white, black, navy, pink, purple, light blue, kelly green, chocolate, and red, with only certain colors available for each design.
Adding the toddler line to the recently added youth sizes, Tees For Your Head can now dress children in nerdy tees from the ages of about two years through the teens.
What looks better with jeans, board shorts, or a tutu than a t-shirt featuring a colorful praying mantis or a dinosaur?
Kids love the t-shirt called Got Frontal Lobes? Kids and their parents are drawn to the plight of the T. Rex struggling with his shirt tag sticking out in the back--with those short arms, he can't do a thing about it, and that tag is scratchy!
Also available in toddler and youth sizes is a set of South Pole Telescope t-shirts, an exclusive reissue of team shirts designed for the researchers, engineers, and support staff during the creating and use of the South Pole Telescope. These geeky astronomy t-shirts, covering 2008 through 2012 (2013 is coming soon), are found exclusively at Tees For Your Head. In the past, only adult sizes were available.
Tees For Your Head is soliciting customer feedback for designs that should be changed or adapted for toddler t-shirts. Input is welcome, and customers can join the conversation on Facebook, on the Tees For Your Head page, on LinkedIn, and on Twitter. Or email the company at info /at/ teesforyourhead /dot/ com. (Translate that to the usual URL form!)
By the way, Tees For Your Head tees are worn on the body, not really on the head. Just a helpful hint.
About Tees For Your Head: the online home of t-shirts for lovers of the arts and sciences was launched in 2012. Husband and wife team Tom Bates and Karin Carter have an arts and science background and create their own designs to appeal to the geeks of the world. Shirts are offered on organic or conventional cotton, in fitted or classic styles, in kids' sizes, and in men's and women's styles, including a v-neck. Santa Cruz tee shirt designs are in the works for this Santa Cruz based business. Find their unique tees at http://www.teesforyourhead.com online now.