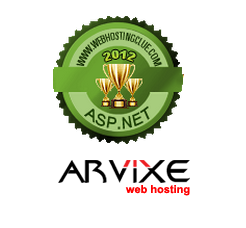 2012 Best ASP.NET Hosting - Arvixe
(PRWEB) April 02, 2012
WebHostingClue.com, an industry leading web hosting review and rating site, today announces the winners of 2012 Best ASP.NET hosting, in which Arvixe is named to the top spot in this annual award.
As said by WebHostingClue.com's editor team, this award was granted based on the review of the factors like Product Features, Affordability, Reliability, Usability and Microsoft technical Support.
ASP.NET is the latest technology from Microsoft, which could be used to build dynamic Web sites and XML Web services productively. Since the first release in 2002, ASP.NET has become one of the most popular programming languages within web developer world.
ASP.NET hosting is designed to run the websites developed using Microsoft ASP.NET technology. To find a good ASP.NET hosting, besides looking at some generic web hosting features, WebHostingClue.com editor team also list out some hosting features they prefer most:

Windows Server 2008 as Web Server
Latest ASP.NET frameworks like ASP.NET 4.0 / .NET 3.5 SP1
IIS ASP.NET Security at FULL Trust Level, or no lower than Medium Trust Level
ASP.NET MVC Support
Microsoft. SQL Server 2008
The winners of this year's Best ASP.NET Hosting are Arvixe, DiscountASP.net and Hostgator. All of them offer great server environment with the latest cutting-edge Microsoft technology at affordable price.
Want to know more about the detail of this award, please refer to http://www.webhostingclue.com/best-asp-net-hosting.
About WebHostingClue.com
WebHostingClue.com is operated by a group of professional web hosting reviewers and editors with a mission to help people find the best web hosting solution for their sites. Their yearly best hosting awards is one of the most authoritative hosting awards in the industry.