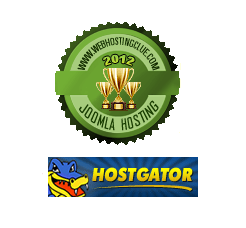 2012 Best Joomla Hosting - Hostgator
(PRWEB) March 29, 2012
WebHostingClue.com, an industry leading web hosting review and rating site, today announces the winners of 2012 Best Joomla hosting, in which Hostgator is named to the top spot in this annual award.
As said by WebHostingClue.com's editor team, this award was granted based on the review of the factors like Joomla compatibility, customer support team's skills on Joomla, affordability and customer feedbacks.
As a powerful and easy-to-use open source application, Joomla now is powering 2.7 percent of the web sites for individuals, small & medium-sized businesses, and large organizations. It's supported by a community with over 200,000 contributors, where people can find hundreds of free plug-ins and themes to create a beautiful site.
Even though people could easily find a web hosting solution to meet the basic requirement from Joomla, only featured-rich web servers could enable all the power of Joomla and run it smoothly.
The winners of this year's Best Hosting for Joomla are Hostgator, Bluehost and InmotionHosting. All of them offer 100% Joomla compatible hosting in their world-class data centers. Their customer supports are all second to none.
Want to know more about the detail of this award, please refer to http://www.webhostingclue.com/best-joomla-hosting.
About WebHostingClue.com
WebHostingClue.com is operated by a group of professional web hosting reviewers and editors with a mission to help people find the best web hosting solution for their sites. Their yearly best hosting awards is one of the most authoritative hosting awards in the industry.