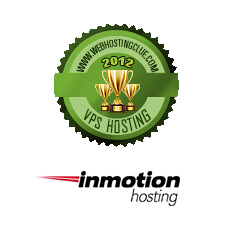 2012 Best VPS Hosting with 100% customer satisfaction rate.
(PRWEB) March 21, 2012
WebHostingClue.com, a leading web hosting review and rating site, today announces its list for 2012 Best VPS, in which InmotionHosting is named to the top spot in this annual award.
As said by WebHostingClue.com editor team, this award is granted based on the review of customer support, datacenter infrastructure, product features and server reliability.
In their InmotionHosting VPS review, WebHostingClue.com lists out the key reasons why they consider Inmotionhosting to be the best in the industry. Below are some of them.
1.100% Customer Satisfaction Rate
According to 27 feedbacks they have collected from InmotionHosting VPS customers, 93% of them would like to recommend InmotionHosting to their friends, and none of them say "Don't recommend".
This is really a great result. The data itself will be good enough to award InmotionHosting as Best VPS Hosting this year.
2.High Price Value
Inmotionhosting offer feature rich VPS at a very affordable price. Their VPS-1000 costs only $39.95/month but comes with 512 MB dedicated memory, 750GB monthly transfer, 40GB RAID 10 disk space, 2 dedicated IP, and full cPanel license (about $10/month value).
Besides these, InmotionHosting also allow for burstable memory up to 1GB, with which their VPS could handle the peak web server requests smoothly instead of slowing down a web site or stopping response.
What's more, InmotionHosting is the only web host who allow for 90 days full money back. Their customer could ask for a full money refund within first 90 days.
3. World Class Data Centers and Powerful Web Servers
Inmotionhosting utilize multiple data centers to offer VPS hosting service. Their customer could choose the one close to their location to enjoy a faster connection speed.
Besides their world class data centers, InmotionHosting also offer their customers with the best hardware available. They use 100% Dell Powerful Web Server with 16 to 24 Xeon Cores, 16 to 24 GB memory, and RAID 10 high-performance data storage, which is much more powerful and reliable than what their competitors offer.
Inmotionhosting VPS is recommended by WebHostingClu.com editors for small business sites, high traffic blogs, or eCommerce.
To know more about Inmotionhosting, please check out their InmotionHosting Review.
About WebHostingClue.com
WebHostingClue.com is operated by a group of professional web hosting reviewers and editors with a mission to help people find the best web hosting solution for their sites. Their yearly web hosting awards is one of the most authoritative hosting awards in the industry.