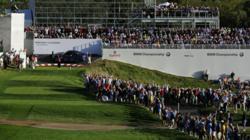 Denver, Colorado (PRWEB) October 17, 2012
Condit continues to redefine outdoor brand representation with the world's most sophisticated temporary rental systems. Condit provided an innovative VIP pavilion structure for the 2012 BMW Championship, held September 7 – 9, 2012 at the Crooked Stick Golf Club in Carmel, Indiana. The BMW Owners' Pavilion covered just over 4,000 square feet and featured a two story, open air lobby as well as a second floor outdoor patio, a feature unique to the Space Building System by Condit. The structure sat on top of a scaffolding structure provided by T&B Equipment and was located directly behind the 16th green and 17th tee box. The interior featured a 40' wide, floor to ceiling graphic, highlighting a number of today's dynamic PGA players.
Once on the course, BMW drivers had exclusive access to the VIP Owners' Pavilion, the perfect venue to relax over culinary delights and beverages in a stylish and spacious atmosphere. Visitors had the choice between open-air seating and air-conditioned interior seating with a vehicle display, flat-screen TV's and other interactive elements. Internet connections also allowed guests to share the event with others. Owners only needed to show their BMW key at the entrance to be admitted. Click here to watch a drone fly-over video of the VIP Pavilion area.
Condit offers the most sophisticated temporary structure systems available for rent or purchase. Their systems work in 5 and 6-meter sections that connect side by side and stack one on top of the other. Developed by designers and engineers, these systems allow users to be creative and functional in outdoor environments. There are two types of temporary rental structures on the market: those systems with fixed sizes and capabilities, and the Space Building System and Kinet-X System by Condit where such limitations do not exist. Condit also offers double deck structures that allow customers to create a mezzanine floor in any environment, indoors and outdoors.
Condit's rental systems offer sporting venues, exhibitors, and event planners alike the ability to develop an extraordinary space in any environment. Condit uses decades of experience working at outdoor events around the globe to successfully create and deliver unique environments of any size.
Whether a customer is looking for an individual structure or the complete package, Condit offers turnkey solutions, as well as the ability to work with event providers and facility managers. Condit's supporting services are tailored to meet each individual customer's needs. These services can include, but are not limited to:
Structure Installation and Dismantling Coordination:

Labor
Equipment handling for cranes, forklifts, and scissor lifts
Structure Services and Logistical coordination:

Custom fabrication
Graphic design and production
Permitting, Engineering, Fire certificate
Electrical, Phone, Internet, and AV rental
Furniture rental
Freight handling
The ability to create a unique space specific to your brand is unlimited with Condit's temporary structures for sporting events and trade shows.
About Condit Exhibits:
Condit Exhibits is the industry leader in creating memorable environments all over the globe with trade show exhibit, stand, museum, double deck, temporary structure, and marquee solutions. Condit's reputation for outstanding service, quality, integrity and innovation is a product of our hard work and dedication to the clients we serve. Condit has the expertise and experience to handle an event from start to finish, including design, fabrication, transportation, audio-visual, event services, and more. Condit Exhibits is headquartered in Denver, Colorado and has supporting offices around the United States and Europe. Since 1945, Condit has provided clients with stunning environments and superior service to create an unmatched experience. For more information, contact Sky Curl at scurl (at) condit (dot) com or visit http://www.condit.com.
Condit, Condit Exhibits, and the Condit logo are registered trademarks and/or service marks of Condit Exhibits in the United States and other countries.
All other names are trademarks or registered marks of their respective owners.