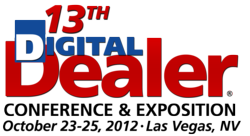 Chicago, IL (PRWEB) October 12, 2012
Penton will guide attendees of his session, step-by-step, through a multi-tiered approach to social media that will result in amplified social media content and an increase in sales.
Dealers and Managers attending Penton's session will learn the following skills to take back to their dealership:
1. How to build a multi-tiered approach to social media for the best ROI.
2. How to generate leads and sales in a dealership using social media tools.
3. How to generate valuable content that makes site visitors want to share and interact.
4. How to build local fans for greater sales potential.
5. How to use Facebook ads to amplify and promote dealership news and specials.
Phil Penton, Partner and Chief Operating Officer of SOCIALDEALER, has had lifelong interests and involvement in the automotive industry. As a former business owner and Vice President, Phil specializes in revenue enhancement through the application of technology into the day to day processes of a startup enterprise. After forming and managing several successful small businesses, Phil went on to work with HomeNet Automotive, a top producing software company in the United States, as Vice President of Business Development, which sold to AutoTrader.com. As an executive, Phil worked daily with other business owners nationwide on how to better design, build, implement, and execute solid business plans that were built to drive revenue and profits using the same concepts and philosophies that are at the root of his own success.
Penton will be presenting a dealership case study and speaking to dealers and managers about successful social media campaigns during the 13th Digital Dealer® Conference & Exposition, October 23-25, at The Mirage in Las Vegas, NV. For more information about Phil Penton and other speakers, visit: http://www.DigitalDealerConference.com
About SOCIALDEALER:
SOCIALDEALER is a social media management company that provides the industry's only complete solution to help automotive dealers create, manage and monitor their social profiles, reputation and content, as well as engage with new and existing customers. SOCIALDEALER offers expert assistance in the development and implementation of a dealers' social media strategy.
The 13th Digital Dealer Conference and Exposition:
The 13th Digital Dealer Conference and Exposition will be held October 23-25, at The Mirage in Las Vegas, NV. There will be new Digital Dealer Learning Labs, Digital Dealer Innovation Hours, a new Digital Dealer Peer Networking Roundtables dinner, more than 100 workshops, over 100 specialized technology solutions providers, and many more exciting new benefits. For more information, visit: http://www.DigitalDealerConference.com