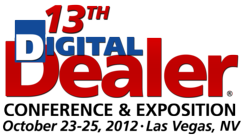 San Francisco, CA (PRWEB) October 02, 2012
Cutting-edge technology exists that allows the modern and next generation automotive dealership to collect multiple points of data from many different sources and consolidate the view to enhance the consumer online and offline buying experience. Dealers and managers will learn how to sell and serve customers better using real tools they may already have in a new way to improve dealership efficiencies. They will find out what data points are needed to map the road to selling success! Sean Stapleton is sharing his expertise with dealers and managers.
What will dealers and managers learn and what action items will they take back to the dealership?
1. Learn how to use online and offline data points to improve sales.
2. Learn best practice tactics to connect important data points.
3. Learn which 12 keys drive dynamic behavior.
4. Learn what tools are needed to get the real picture, and how to use them.
Sean Stapleton, vice president of sales at VinSolutions, entered the automotive software industry by co-founding IMS, which was later acquired by Who's Calling where he worked as VP of national accounts and VP of automotive sales, defining expectations for emerging call measurement and monitoring. He later co-founded and established Visible Customer as another market brand. Stapleton joined VinSolutions as the executive VP of sales in August 2010, was appointed to the board and promoted to CSO that same year. VinSolutions realized growth of 678% under his leadership, contributing directly to the company's ranking by Inc. 500 over the next three years. AutoTrader.com acquired VinSolutions in June 2011. Stapleton is a highly regarded sales visionary, author in top automotive trade magazines and a respected events speaker.
Sean Stapleton will be speaking to dealers and managers on how to connect the data point dots to map real buyer behavior at the 13th Digital Dealer® Conference & Exposition, October 23-25, at The Mirage in Las Vegas, NV. For more information about Sean Stapleton and other speakers, visit: http://www.DigitalDealerConference.com
ABOUT DEALER COMMUNICATIONS
Dealer Communications is the leading multi-media information source for franchised automotive dealers and managers. Connecting with franchised automotive dealers and managers over ten million times per year, Dealer Communications publishes the monthly print and online editions of Dealer magazine and Digital Dealer magazine. Online weekly newsletters include Dealer; Digital Dealer; Dealer Fixed Operations; Dealer Pre-Owned; Dealer F&I, and Dealer Sales and Marketing. Dealer Communications also offers the Digital Dealer Webinar Series, with online presentations throughout the year. To see all that Dealer Communications offers, visit: http://www.dealer-communications.com.
Dealer Communications also owns and operates the Digital Dealer Conference & Exposition, the premier educational conference and expo dedicated to Internet and technology solutions for automotive professionals. Digital Dealer events deliver the largest array of speakers, peer to peer opportunities, and exhibit hall offerings – all carefully designed to impart cutting edge business strategies. With an audience of the industry's most progressive dealers and managers and the most innovative conference format, Digital Dealer provides the ultimate learning and networking environment.
The 13th Digital Dealer Conference and Exposition will be held October 23-25, at The Mirage in Las Vegas, NV. There will be new Digital Dealer Learning Labs, Digital Dealer Innovation Hours, a new Digital Dealer Peer Networking Roundtables dinner, more than 100 workshops, over 100 specialized technology solutions providers, and many more exciting new benefits. For more information, visit: http://www.DigitalDealerConference.com.