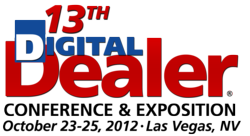 Las Vegas, NV (PRWEB) October 09, 2012
The average consumer spends 11.5 hours researching online before they come to dealerships, making it harder for dealers to sell to today's savvy buyers.
"At this point, consumers know more about the cars you're selling than your salespeople do," says Solotaroff. "In addition, they [consumers] have mobile devices, iPhones, Androids, iPads giving them even more information. Dealers need to use mobile technology to level the playing field with these consumers."
In his session, Jacob will reveal research of the typical online shopper and sites they visit to ensure that they will have all the information that they need about a vehicle at their fingertips. Jacob will share cutting-edge insights on how to create the most consumer relevant online listings by explaining the consumer-optimization process.
"Exploring how and why consumers make buying decisions, how they decide where to buy, how they decide what to pay and how they determine the value of your inventory, you can discover the keys to overcoming marketing challenges, driving more traffic, more volume, and stronger closing rates at solid margins," Jacob Says.
Jacob will share innovative strategies and tools that will allow dealers to know just as much as consumers do and how they can stay ahead of the new technology era.
"How to Hook Shoppers Online, and Buyers on the Lot" will take place at Digital Dealer in Las Vegas at the Mirage Hotel on October 23rd at 1:30pm session 101.
About Jacob Solotaroff.
Jacob Solotaroff, Chief Operating Officer of MAX Systems is responsible for the overall strategy and direction of MAX Systems. He brings 15 years of experience in software and analytical technology. Previously, Solotaroff was the general manager of a Match.com business unit and before that led Match's North American Product Management team.
The 13th Digital Dealer Conference and Exposition
The 13th Digital Dealer Conference and Exposition will be held October 23-25, at The Mirage in Las Vegas, NV. There will be new Digital Dealer Learning Labs, Digital Dealer Innovation Hours, a new Digital Dealer Peer Networking Roundtables dinner, more than 100 workshops, over 100 specialized technology solutions providers, and many more exciting new benefits. For more information, visit: http://www.DigitalDealerConference.com