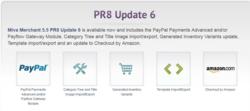 San Diego, CA (PRWEB) May 29, 2012
Leading ecommerce software and hosting company, Miva Merchant, Inc has released a major core software update. With this update, several new features and modules are now available to current customers, including:
•Template Import/Export: Imports your store's category tree and title images quickly and easily.
•Generated Inventory Variants: Automatically adds default prices, weights, and costs when generating category variants.
•PayPal Payments Advanced/Payflow Gateway Module: provides integration with PayPal Payments, Payflow Link, and Payflow Pro.
•Checkout By Amazon Updates: Inventory variant options and more.
"With this latest update to our core software, our customers can take advantage of expanded payment gateway and checkout options," says Rick Wilson, President and COO of Miva Merchant. "We are happy to have the opportunity to help store owners simplify and improve the ways in which they do business and to help them provide a better online shopping experience for their own customers as a result."
More information about PR8 Update 6 can be found here.
About Miva Merchant
Miva Merchant offers a complete e-commerce solution consisting of PA-DSS validated shopping cart software, PCI compliant ecommerce hosting, credit card processing services and custom website design & development. Over 50,000 merchants use Miva Merchant's highly customizable, intuitive and scalable ecommerce software. These merchants range from hand-selected boutique product stores to manufacturers directly integrating their manufacturing with distributor access and an online retail presence.