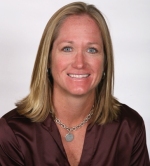 Try this tip and see if you can add another 10-15mph on your serve.
San Rafael, CA (PRWEB) May 02, 2012
Head Women's Tennis Coach and Nike Tennis Camp Director at Florida State University talks to us about the importance of the serve in tennis and how to create more power:
Coach Hyde explains, "Tennis begins with the serve. The first step to a dominant game is a dominant serve. Physical strength does aid the serve, but efficient technique is extremely beneficial. After learning the technique, repeating the motion until it becomes second nature will put you on your way to an efficient and effective serve."
"In order to achieve power or increase your power on the serve it will require the use of your legs. 60% of the force of the serve comes from the legs. Increasing the bend in your legs can be helpful but more importantly is the force you create when pushing up and into the ball. Ideally you want the action thrusting you up and forwards into the court and in the direction the ball intends to go. Try this tip and see if you can add another 10-15mph on your serve."
Jennifer Hyde is in her eighth season at the helm of the Florida State program. Hyde has led the Seminoles to five straight NCAA appearances, including their first ever Sweet 16. She has an exceptional list of accomplishments and milestones from her career at FSU, including her most recent honor as the ITA South Region Coach of the Year.
The Seminoles concluded the 2011 season with an eight-match winning streak, landing the Seminoles back to the ACC Title Match for just the second time in program history. The first time occurred in 1994 when Hyde was an athlete on the team. During the span, the Seminoles knocked of four teams ranked inside the top 10 en route to Hyde earning her 100th career victory.
Currently ranked 35 in the country, the Seminoles are gearing up for their seventh appearance in the last eight years at the NCAA tournament.
This summer, Coach Hyde joins the Nike Tennis Camp team and is running one week of day and overnight camp at her tennis camps in Florida. Geared for kids ages 8-18, this camp is a great place for players of all abilities to come and improve their game. For more information or to register, click here.
About US Sports Camps
US Sports Camps (USSC), headquartered in San Rafael, California, is America's largest summer sports camp network and the licensed operator of NIKE Sports Camps. Founded in 1975, Nike Tennis Camps is a division of US Sports Camps. What began 37 years ago as one tennis camp is now a national network with more than 500 camps across the country in a wide variety of sports.
Players, coaches, parents and others interested in Nike Tennis Camps and US Sports Camps can visit the company's website at USSportsCamps.com.