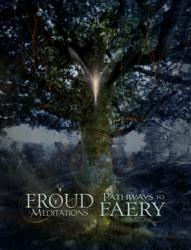 Reno, Nevada (PRWEB UK) 30 August 2012
Big Ben Parliament Creations (BBP Creations) has collaborated with World Of Froud artists, Brian and Wendy Froud, on their latest iPhone, iPad and iPod app, Froud Meditations Pathways to Faery, set to be released in October.  
Brian and Wendy Froud are two of the most well-known and respected artists working in the genre of faerie today. For years, people have asked them to share their experiences and explain how one can access the heightened awareness and find their inspiration in another reality. Froud Meditations Pathways to Faery does just that. Wendy has developed these multi-sensory meditations from those used in her workshops, and her voice takes the listener on four guided journeys to the otherworld and into the realms of Trolls, Faeries, Elves and Wise Ones. Brian's images inspire and enhance the meditations and Elizabeth-Jane Baldry's original music compositions allow the user to fully engage while exploring these enchanted realms.
Having completed a meditation, the user can then sketch or take notes of their experience in the Journal that is included in the app. The Journal has an old world sketchpad feel, as well as a setting for taking notes. The app is designed for artists, musicians, and anyone wishing to experience meditations that take them on inspiring journeys into the realms of faerie and their own creative imaginations.
BBP Creations has worked with the Frouds for over a year developing the app.  An app trailer will be released September 13th via YouTube and their Facebook pages. Froud Meditations Pathways to Faery will be released on iTunes in October and will be available for the iPad, iPhone and iPod. 
The Frouds are recognized worldwide for their artwork, books, and the films Dark Crystal and Labyrinth.  Brian is considered the preeminent fairy artist of our generation, while Wendy's mixed media models have been exhibited in museums and galleries throughout the U.K., Europe, Japan and the U.S.A. Their highly anticipated book, Trolls, will be released in September and their Trolls Exhibition will be at Animazing Fine Art Gallery in NYC, opening October 3rd.
For the last 4 years, BBP Creations has developed in-house applications for the iPhone, iPad and thumb drives for large corporations. They are known for their quality apps, creativity and thorough testing to create flawless applications. 
For more information on BBP Creations or their latest iPhone and iPad releases, visit their website at BBPCreations.com or you can follow them on Facebook or Twitter.