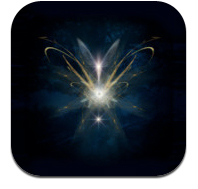 We hope that the creative and healing energy embodied in these meditations will be of use to artists and non-artists everywhere.
Chagford, UK (PRWEB UK) 10 October 2012
World of Froud and Big Ben Parliament Creations (BBP Creations) have announced the release and launch of their new app and album, "Froud Meditations - Pathways to Faery."
Both companies joined forces on the creation of the app and album. The iPhone, iPad and iPod app contains four imaginative meditative journeys to the worlds of Faeries, Trolls, Elves and The Wise Ones. The app includes an old world journal to sketch or type creative expressions after listening to the meditations. The album contains four meditations, all easily downloadable by other music devices. The harp soundtrack will also available later this year for download separately.
The multi-sensory meditations come from the sculpting workshops of Wendy Froud, who is a world renowned faery artist and is known for her creation of the characters "Jen" and "Kira" in The Dark Crystal, and for fabricating "Yoda" in The Empire Strikes Back. Her mixed media models have been exhibited in museums and galleries throughout the U.K., Europe, Japan and the U.S.A. Wendy created the meditations to help artists, writers, musicians and anyone else wishing to access his or her own creativity and imagination. "We hope that the creative and healing energy embodied in these meditations will be of use to artists and non-artists everywhere," stated Wendy Froud.
The meditation app includes Brian Froud's images that inspire and allow users to explore his or her imaginations. Brian Froud is one of the most well-known and respected artists working in the genre of faerie today. He is best known for his book Faeries, with Alan Lee, and his conceptual artwork for the movies The Dark Crystal and Labyrinth. Together, Brian and Wendy have released several books over the years and their latest book, Trolls, was released in September. "It is very exciting for us to be able to share one of our favorite methods of accessing faery with a much wider audience than was possible before iPads and iPhones existed!" an exuberant Brian Froud recently stated.
BBP Creations has worked with the Frouds for over a year, aiding in development, art direction, marketing and programming for both the app and album. Elizabeth-Jane Baldry composed an original score for each meditation, thereby helping the user to reach his or her creative potential, not only through Wendy's words, but also through the soothing sounds of the harp.
"Froud Meditations - Pathways to Faery" is now available on iTunes for the iPad, iPhone and iPod. The meditations Album can be found on iTunes and the harp soundtrack will be available later this year. A launch for the app and album will be held simultaneously with the Froud's Troll book signing at Animazing Fine Art Gallery, in New York City, on October 11th from 6-8 pm. The app may also be seen at New York Comic Con on Sunday, October 14th at the panel "Over 30 Years with Brian & Wendy Froud: Faeries, Goblins and Trolls."
For the last 4 years, BBP Creations has developed in-house applications for the iPhone, iPad and thumb drives for large corporations. They are known for their quality apps, creativity and thorough testing to create flawless applications. 
For more information on BBP Creations or their latest iPhone and iPad releases, visit their website at BBPCreations.com or follow them on Facebook or Twitter.